Gallery: UK port ends 2022 on a high note with some of the world's largest rigs among current projects
Due to several ongoing projects, the UK's Kishorn port (KPL), a 50/50 joint venture between Ferguson Transport (Spean Bridge) and Leiths (Scotland), is currently playing host to giant semi-submersible and jack-up drilling rigs.
Offshore Energy reported in October 2022 that Diamond Offshore's Ocean GreatWhite semi-submersible drilling rig – considered the world's largest rig of its type – reached the Kishorn Port in the UK for its second visit to KPL, following a ten-week stay in early 2019.
This giant rig was stacked prior to getting hired by BP. After embarking on reactivation activities, the rig left the Port of Granadilla in the southeast of the island of Tenerife and set out for the UK. Suitable for operations in harsh environments, the rig is of a MOSS CS60E design.
During its stay at Kishorn, the Ocean GreatWhite rig will partake of a sheltered anchorage and port and marine services before it kicks off its drilling assignment in the North Sea, which is expected to start in 1Q 2023 and take 300 days.
Another rig that was welcomed to the Kishorn port in mid-December 2022 is the Noble Intrepid jack-up drilling rig, which completed its drilling campaign with OMV in Norway, prior to its journey to KPL. This rig is an ultra-harsh environment CJ70 XLE jack-up rig, designed for year-round operations in the North Sea and featuring hybrid, low-emission upgrades.
When the rig arrived at the port, KPL said: "A fantastic job by all the team involved! We wish the client, all the crew on board, along with visiting contractors, a great stay and warm welcome to a lovely part of the world, in Wester Ross, Scotland."
Moreover, the Kishorn port is currently harbouring Northern Offshore Company's Northern Producer floating production facility (FPF) and Teekay's Voyageur Spirit FPSO.
Originally built in 1976 as a drilling rig, the Northern Producer FPF worked on the EnQuest-operated Dons fields in the North Sea before the oil and gas player decided to call a halt to the production from the field as it reached its "economic limit."
On the other hand, the Voyageur Spirit FPSO carried out operations at the Premier-operated Huntington field in the Central North Sea, prior to the operator's decision to start decommissioning the field.
With 2022 coming to an end, KPL reported over the weekend that it was finishing the year on a high, "as the world's largest jack-up rig nestles in the dry dock, with its 200 m high legs reaching up to the sky."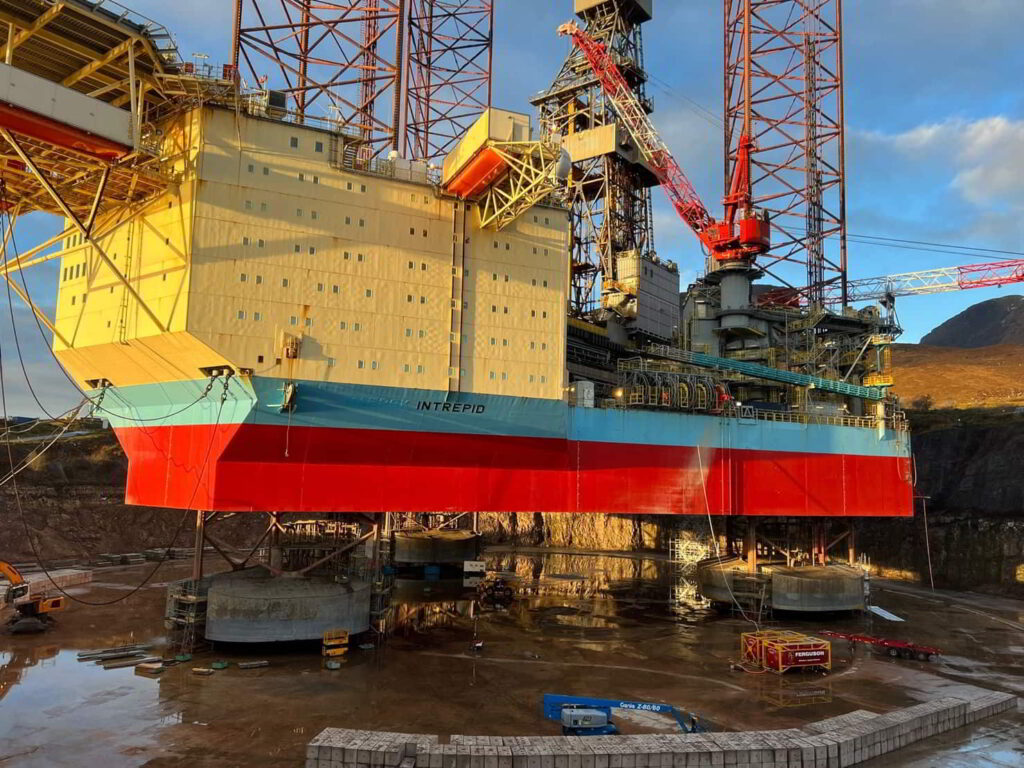 "In the loch at anchor, is the largest semi-submersible drilling rig in the world, the Ocean GreatWhite and at the quay side is the Voyageur Spirit, a circular FPSO, and further out the loch is the Northern Producer, a semi-submersible drilling rig," added Kishorn.
According to KPL, all are in for port services and dry dock-related projects, "contributing to the regeneration of the Kishorn yard, creating jobs in a rural area, contributing to the local and national economy."