US gov't allocates $220 million in grants for ports
Last week, the U.S. Department of Transportation announced the award of more than $220 million in discretionary grant funding to improve port facilities in 16 states and territories through the Maritime Administration's (MARAD) Port Infrastructure Development Program.
"This $220 million in federal grants will improve America's ports with nearly half the projects are located in Opportunity Zones, which were established to revitalize economically distressed communities," Elaine L. Chao, Department of Transportation Secretary, said.
U.S. maritime ports are said to be critical links in the U.S. domestic and international trade supply chain and this funding will assist in the improvement of port facilities at or near coastal seaports.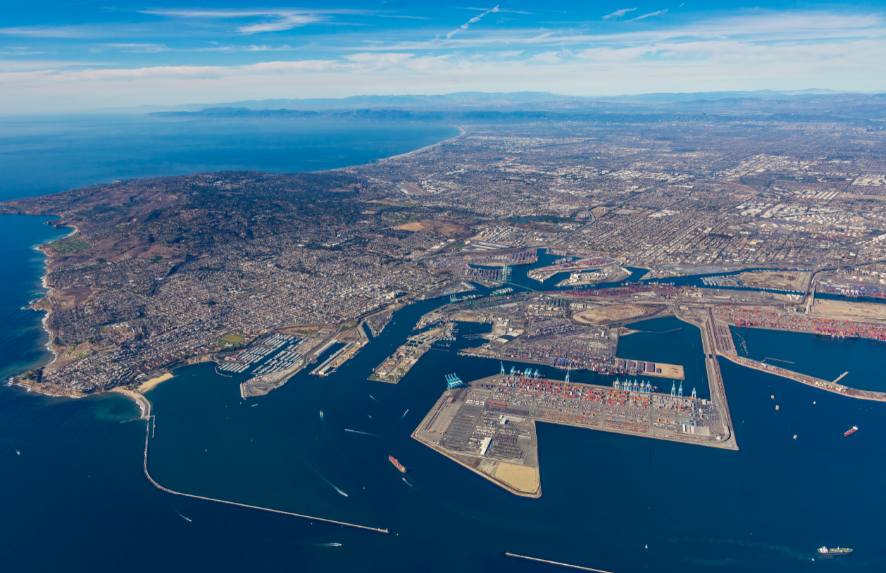 Specifically, the development program aims to support efforts by ports and industry stakeholders to improve facility and freight infrastructure to ensure the nation's freight transportation needs, present and future, are met. The program provides planning, operational and capital financing, and project management assistance to improve their capacity and efficiency.
Of the 18 projects that were awarded grants, eight are located in Opportunity Zones, which were created to revitalize economically distressed communities using private investments.
"These grants will help our nation's economy and ensure that America's ports can continue to operate effectively in the competitive global marketplace," Mark H. Buzby, Maritime Administrator, commented.
The grants were awarded for the following projects:
Seward, Alaska: Marine Terminal Freight Dock & Corridor Improvements (awarded $19,779,425);
Los Angeles, California: SR 47-Vincent Thomas Bridge & Harbor Boulevard-Front Street Interchange Improvement Project (awarded : $9,880,000);
Palm Beach, Florida: On-dock Rail Facility Development (awarded $13,224,090);
Burns Harbor, Indiana: Burns Harbor Bulk Storage Facility (awarded $4,000,000);
Avondale, Louisiana: Avondale Dock Conversion Project (awarded $9,880,000);
Baltimore, Maryland: Sparrows Point Bulk Expansion Rail Modernization and Berth Rehabilitation Mid-Atlantic Multi-Modal Transportation Hub (awarded $9,880,000);
Portland, Maine: Linking Intermodal Needs and Rural Freight Knowledge – LINK Project (awarded $4,098,360);
Kansas City, Missouri: Missouri River Terminal Intermodal Facility (awarded $9,880,000);
Wilmington, North Carolina: Container Gate Innovation & Access (awarded $16,073,244);
Conneaut, Ohio: Port of Conneaut Connector (awarded $19,527,640);
Coos Bay, Oregon: Coos Bay Rail Line Phase II Tie and Surfacing Program (awarded $9,880,000);
North Kingstown, Rhode Island: Unlocking the South Berth at Pier 1 (awarded $11,141,000);
Brownsville, Texas: Grain & Bulk Handling Facility Development, Expansion and Upgrade Project (awarded $14,504,850);
Port Arthur, Texas: Transit Shed 1 Replacement (awarded $9,722,223);
Norfolk, Virginia: Norfolk International Terminals Central Rail Yard Expansion Project (awarded $20,184,999);
St. Thomas, US Virgin Islands: Crown Bay Terminal Improvements Project (awarded $21,869,260);
Bellingham, Washington: Bellingham Shipping Terminal Rehabilitation Project (awarded $6,854,770);
and Seattle, Washington: Terminal 5 Uplands Modernization and Rehabilitation Project: Final Phase (awarded $10,687,333).
This grant will support infrastructure improvements including surfacing, paving, and reinforcement of a terminal-wide storm water treatment system. Additionally, the project will focus on upsizing electric refrigerated plug capacity and on-terminal rail infrastructure improvements.