Verdant Power bags $6 million for final tidal demo
The US-based company Verdant Power has received $6 million to progress the program whose aim is to advance its next generation tidal power system in New York.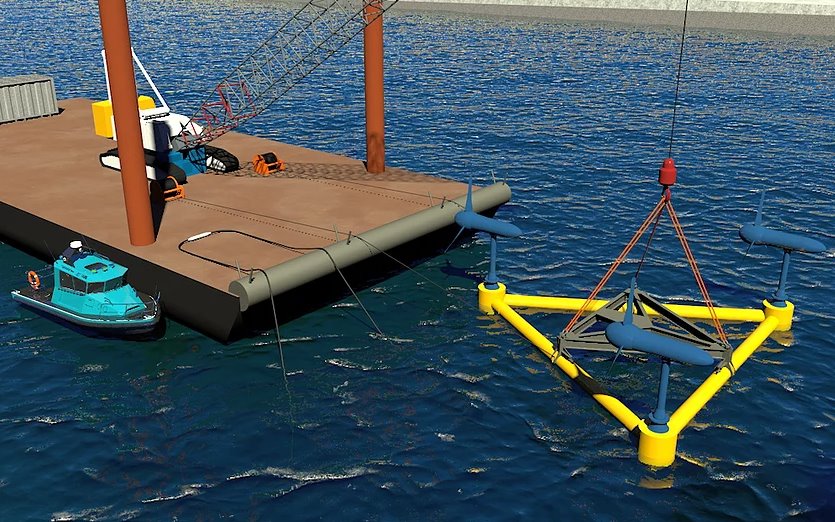 The US Department of Energy's Office of Energy Efficiency and Renewable Energy (EERE) has approved $3 million in co-funding support for the third phase of Verdant Power's project that will qualify its tidal power system through to final test, demonstration and commercialization.
The latest Phase 3 funding from EERE, which was authorized based on a Go/No-Go review scheduled at the completion of Phase 2 of the project, is part of an EERE Water Power Technologies Office initiative to help drive down the cost of energy.
For example, mounting three tidal power turbines on a single triangular foundation optimizes turbine spacing for efficient operation and allows for installation as a single system, as well as retrieval with one on-water operation for cost-effective IO&M, according to Verdant Power.
During the Phase 3 – three Verdant Power fifth generation free flow system turbines will be deployed on a TriFrame mount at the company's Roosevelt Island Tidal Energy (RITE) project in New York City's East River.
They will generate electricity under a hydrokinetic pilot project license issued by the Federal Energy Regulatory Commission (FERC) – the first commercial license issued for a tidal power project in the United States.
John Banigan, CEO of Verdant Power, said: "It's all about reliability and affordability. We are pleased to have received further support in the form of $3 million from the U.S. Department of Energy, which has been matched by private investment in the company, for the next phase of this crucial project to drive down cost and commercialize the company's product.
"We are eager to deploy our commercial class tidal power system into the East River. That not only will deliver clean energy to New York residents, but also will demonstrate tidal power as a viable energy resource advancing our industry in the US and globally."
The project is also supported by the New York State Energy Research and Development Authority (NYSERDA), which has been a long standing partner of Verdant Power and the RITE Project.
In addition to Verdant Power, the project team includes global engineering consultancy Ramboll; marine operations firm James Fisher Marine Services; hydropower regulatory specialist Kleinschmidt Associates; Cornell University; and manufacturing and quality management advisor Manufacturing Resources, among other partners.