Westwood: Netherlands & Belgium could lead hydrogen imports in NW Europe
The latest research by Westwood Global Energy Group, a market research and consultancy firm, has revealed an optimistic outlook for Northwest Europe (NWE) hydrogen imports, led by targets set by the Netherlands and Belgium.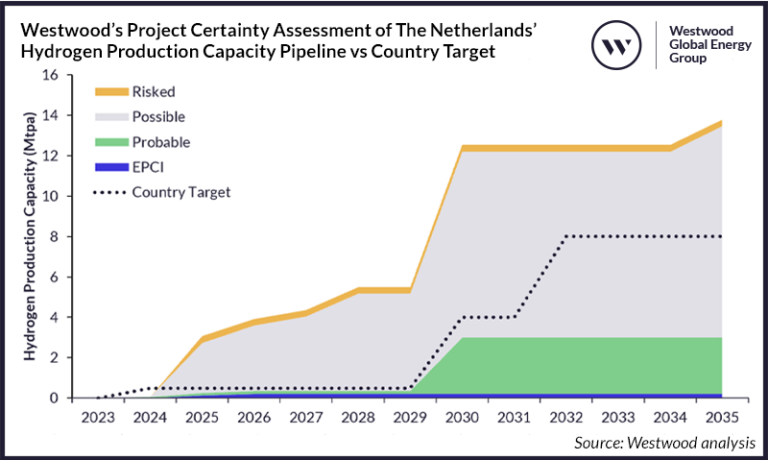 According to Westwood, the two countries have a collective potential to provide 62% of the European Union's (EU) import target. However, a range of factors, including the countries' ability to scale domestic production, timely development of offshore wind and infrastructure as well as the establishment of global partnerships, will be crucial to their success, Westwood noted.
The consultancy firm pointed out that 72% of the Netherlands' 12.5 GW pipeline are green hydrogen projects, with 92% of these requiring power from offshore wind. In addition, according to Westwood's 'Hydrogen Project Certainty' analysis, there is a risk in reaching domestic production targets.
Furthermore, research revealed that only 3 mtpa of the Netherlands' announced hydrogen pipeline is "probable," leaving the country 1 GW short of its 4 GW by 2030 target. This increases to a shortfall of 5 GW if the proposed 8 GW target for 2032 is approved, Westwood said. Thus, imports could likely be required to meet the country's own domestic decarbonization goals before being available to wider Europe.
David Linden, Head of Energy Transition, Westwood, stated: "The Netherlands and Belgium are already laying the groundwork to lead the way on hydrogen imports in Northwest Europe. Despite Belgium's seemingly conservative target relative to the Netherlands, the country stands ready to take the necessary steps for the promotion of hydrogen today, with great potential for further expansion in the future."
Jun Sasamura, Senior Analyst-Hydrogen, Westwood, added: "As home to two of the continent's biggest ports, the expansion of critical infrastructure linking supply and demand will be key to success as will the establishment of global partnerships capable of supplying low-cost hydrogen."
To note, in 2023, the Netherlands saw the emergence of multiple hydrogen projects and calls for innovation in the sector, with the latest being an open call from TKI Offshore Energy, a part of Energy Innovation NL, for innovation projects in the field of offshore hydrogen.
This call seeks proposals that enhance the feasibility, viability, and desirability of offshore hydrogen production, including subjects such as innovations for direct hydrogen production from seawater, innovations that reuse waste streams (oxygen and heat) from offshore hydrogen production, optimization to improve operation and maintenance of production facilities, and innovations for optimizing hydrogen transport from offshore production facilities to shore and similar.