'World's first' design approval for compressed hydrogen carrier awarded to Provaris
Australian Provaris Energy, former Global Energy Ventures (GEV), has obtained design approval from classification society American Bureau of Shipping (ABS) for its compressed hydrogen carrier H2Neo.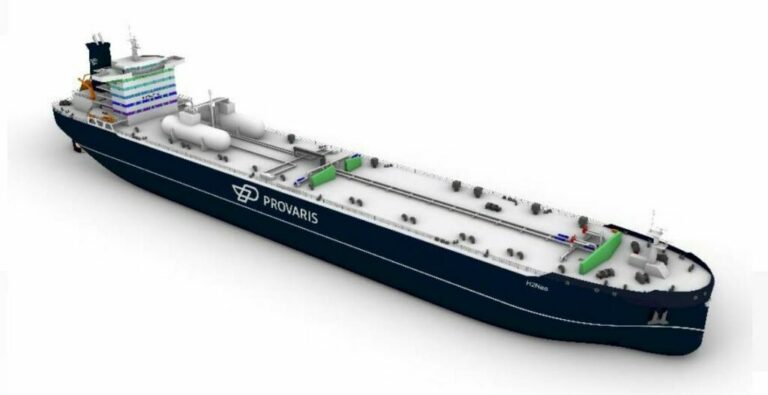 ABS has reviewed, verified and approved the design of Provaris' 26,000 m3 H2Neo compressed hydrogen carrier, which is said to be the first of its kind to receive this level of approval.
Described as the critical milestone, the approval follows the completion of front-end engineering design (FEED) work.
It confirms that Provaris' multi-layered hydrogen tank can be incorporated into the H2Neo carrier.
Having obtained the design approval, the company will move on to the next phase which includes constructing and testing a prototype hydrogen tank and preparing for ship construction with selected shipyard(s).
The company has appointed ship broker Clarksons to undertake a shipyard selection and tender process in early 2023.
Commenting on the approval, Provaris' Chief Technical Executive Officer Per Roed said: "The success of our FEED design stage and corresponding approval milestone is the result of extensive design and engineering works by Provaris' team of discipline experts and consultants that have actively contributed to the development of Provaris' innovative H2Neo hydrogen carrier.
Through our close collaboration with ABS throughout this three-year process, we are confident that our compressed hydrogen carriers can safely and effectively establish the maritime transportation of hydrogen at a time when storage and transport remain key to unlocking markets with ambitions for hydrogen imports at scale from 2026."
ABS' Senior Vice President – Global Engineering and Technology, Patrick Ryan added: "ABS recognizes the potential that hydrogen shows in supporting a sustainable, lower carbon future. Safe and efficient storage and transportation of hydrogen at sea will be critical to the development and viability of the global hydrogen value chain. We have been working closely with Provaris, initially granting AIP in 2021 and subsequently reviewing their comprehensive FEED-level package for the H2Neo."
In October 2020, Provaris launched a program to develop a compressed hydrogen carrier, and in 2021 ABS awarded Provaris with an approval in principle (AiP) for two classes of green compressed hydrogen carriers, namely the H2Neo (26,000 m3 ) and the H2Max (120,000 m3 capacity).
The H2Neo design is characterised by two large-diameter cylindrical tanks, one in each of the port and starboard cargo holds with a maximum allowable operating pressure (MAOP) of 250 bar.
To avoid boil-off / cargo losses and to avoid the need for insulation and energy-intensive cooling during the voyage, the hydrogen is carried at ambient conditions. At these conditions, the design pressure rating of the cargo containment system has been determined to be 250 bar, the company explains.
According to Provaris, the H2Neo aligns with regional volumes of hydrogen supply to be available from 2026 and the H2Max, targeted for 2030, can support a single export project with a significant capacity of 950,000 tonnes pa.
The company is also now extending the compressed hydrogen ship designs to develop floating storage barge solutions to store similar volumes.