World's first liquefied H2 carrier Suiso Frontier to visit Oman
Suiso Frontier, the world's first liquefied hydrogen carrier built by Kawasaki Heavy Industries (KHI), is scheduled to arrive at the Sultan Qaboos Port in Muscat, Oman, today (14 August).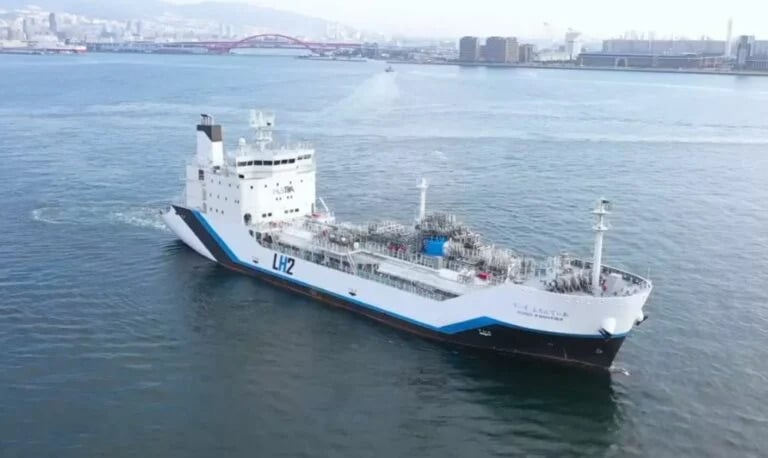 According to local media reports, the ship departed Abu Dhabi and is heading to Muscat for its first visit to the Sultanate of Oman.
The visit of the Suiso Frontier to Oman is being described as a milestone in developing commercially viable supply chains for the hydrogen market. According to the recent report by International Energy Agency (IEA), Renewable Hydrogen from Oman: A Producer Economy in Transition, this country is on track to become a competitive low-emissions hydrogen supplier by 2030.
The Suiso Frontier was built in 2020 as a prototype ship to assess the technical aspects of transporting liquified hydrogen by sea.
The 8,0000 tonnes ship is 116 metres long and 19 metres wide, carrying a double tank with a capacity of 1,250 cubic metres to retain hydrogen and maintain it a temperature of -253 degrees Celsius.
In addition, it features a diesel-electric propulsion system and can achieve a speed of 13.0 knots. The ClassNK-classed vessel can carry 25 people.
For its maiden voyage, the Suiso Frontier left Japan in December 2021 and arrived in Australia in January 2022 to pick up liquefied hydrogen produced from coal in Victoria, Australia. It returned to Japan in February 2022, unloading the cargo to a landside storage tank.
During the ship's maiden voyage, a fire incident occurred due to the failure of an incorrectly-fitted electrical solenoid valve which led to the brief propagation of flame from a liquified hydrogen carrier gas combustion unit's vent stack. Nevertheless, the Suiso Frontier manage to deliver the world's first cargo of liquefied hydrogen to Japan.
When it comes to hydrogen-related developments in Oman, it is worth reminding that the country formed several new partnerships and signed numerous project agreements since the beginning of the year.
__________________________________________________________________________________
Hydrogen solutions and development will be showcased at Offshore Energy Exhibition & Conference (OEEC) 2023 in the dedicated Hydrogen Area on 28 and 29 November at the RAI Convention Centre in Amsterdam.
Book your ticket now and join us!