AD Ports Group inks concession deals with KTP, Congo
UAE-based port operator AD Ports Group has signed a concession agreement with Karachi Port Trust (KPT), the Pakistani federal government agency that oversees the operations of the Port of Karachi.
Under the terms of the 50-year concession agreement, a Joint Venture between AD Ports Group, as a majority shareholder, and Kaheel Terminals, a UAE-based company has been formed to manage, operate and develop the Karachi Gateway Terminal Limited (KGTL), berths 6-9 at Karachi Port's East Wharf.
The JV will undertake significant investments in infrastructure and superstructure over the next 10 years, with the bulk of it planned for 2026. The development works will include deepening of berths, extension of quay walls, and an increase in container storage area. As a result, the terminal will be able to handle Post Panamax class vessels of up to 8,500 TEUs and container capacity will increase from 750,000 to 1 million TEUs per annum.
Historically, the terminal has been generating revenue of around $55 million and EBIDTA of around $30 million annually. 
This strategic agreement follows the signing of a Memorandum of Understanding in May this year.
AD Ports Group has also signed three MoUs with the Government of Pakistan to establish a framework for cooperation in improving transportation infrastructure, facilitating efficient cargo movement, reducing logistics costs, and enhancing the competitiveness of Karachi Port or any other projects of mutual interest. The Group will provide technical expertise, advice, and support to the Government for the planning, design, and implementation of trade, customs and logistics infrastructure projects within Pakistan.
These include Rail Connectivity MoU to develop and upgrade the connectivity of Karachi Port to the railway systems, Free Zone MoU under which AD Ports and Port Qasim Authority will develop, operate and manage industrial and/or free zone facilities in the Port Qasim area, and a Digital Solutions MoU under which AD Ports Group and the Government of Pakistan will cooperate to develop digital trade and logistics solutions including customs digitalisation.
"The UAE and Pakistan have a strong and long-standing relationship, which is experiencing continuous growth in the areas of trade and investment due to our leadership's commitment to further strengthen ties. The signing of this agreement underscores both our great nation's shared vision for the development of port infrastructure and sets the stage for a prosperous global maritime ecosystem," Faisal Subzwari, Pakistan Minister for Maritime Affairs, said.
"The concession agreement, has the potential to unlock a new chapter of growth and progress for both the UAE and Pakistan, enabling us to strengthen ties with key trading nations and leading to increased economic growth and prosperity. We foresee significant opportunities ahead, together, in line with our wise leadership's vision, we will redefine the maritime landscape and create value for all stakeholders," Captain Mohamed Juma Al Shamisi, Managing Director and Group CEO of AD Ports Group said.
The UAE was Pakistan's number one regional trading partner in 2021, accounting for over 40% of Pakistan's trade with Arab countries, with non-oil exports from the UAE to Pakistan valued at nearly AED 4.8 billion ($1.3 billion) in 2022 according to Pakistan's Ministry of State for Foreign Trade. Additionally, re-exports from the UAE to Pakistan amounted to AED 10.6 billion (US$ 2.9 billion), reflecting a 7.7% growth compared to 2021.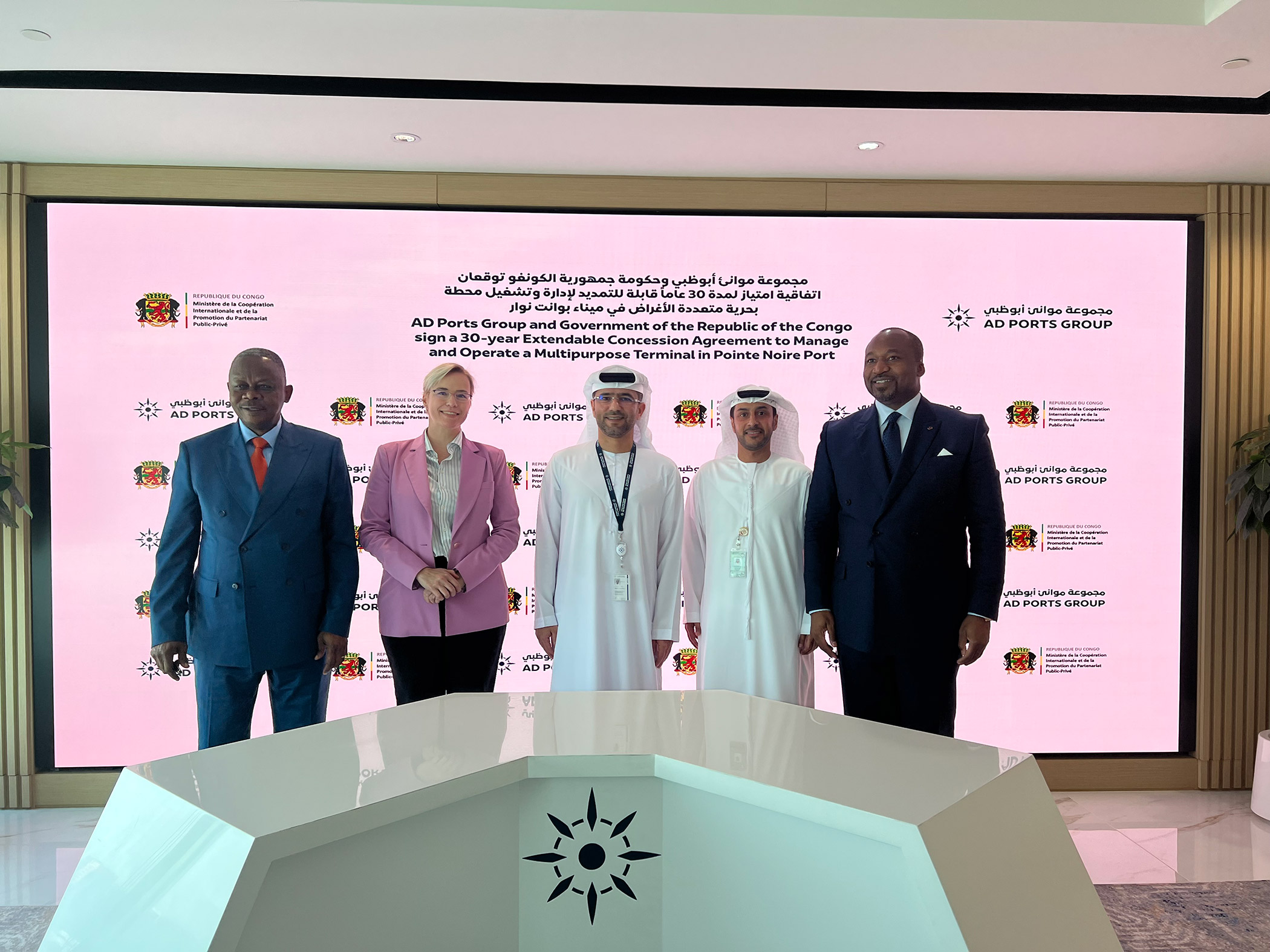 Separately, AD Ports has signed a 30-year concession agreement with the Government of the Republic of the Congo for managing and operating the multipurpose New East Mole Terminal in Pointe-Noire in the Republic of the Congo.  
The agreement follows the previous Head of Terms agreement signed between the two parties in March 2023.

Under the terms of the new agreement, AD Ports Group will have the exclusive right to invest in the development, operation, management and maintenance of the "New East Mole Port" that will handle containers, general cargo, break-bulk and other types of cargo. The agreement runs for thirty years from the date of signing and AD Ports Groups shall have the right to further extend it for a further period of twenty years on the same terms and conditions.

AD Ports Group will invest more than $ 500 million over the life of the concession, with around $ 220 million allocated for phase 1, which is expected to be completed over the next 30 months.  

Throughout the term of the agreement, AD Ports will provide the new facility with digital services and technology solutions to enhance its efficiency including design, implementation and operation of a single-window, software development, digital architecture, business analytics, digital operations support and digital transformation. 

"By expanding our operations and presence in Congo, we are not only strengthening our position in the region, but also tapping into a new market with immense potential. We anticipate boosting trade and commerce between our countries and opening new trade routes, creating new employment opportunities, and contributing to the overall development of Congo. As such, we will be closely working with our government partners in the Republic of the Congo to identify areas where our partnership can help support their vision for the future," Capt. Mohamed Juma Al Shamisi, Managing Director and Group CEO, AD Ports Group, said.

"Through this partnership, we will have access to AD Ports Group's expertise and resources, which will be invaluable in developing our infrastructure and supporting our future plans. We are confident that with their support, we can accelerate progress in critical areas such as transportation, trade and logistics. We believe that this partnership has the potential to be a game-changer for our country, and we are excited to see the positive impact it will have in the years to come," Denis-Christel Sassou Nguesso, Minister of International Cooperation and Promotion of Public Private Partnership of the Republic of the Congo, said: 
Pointe Noire is the main commercial centre of the Republic of the Congo, and its port plays a key role in the economy and development of the nation and wider region.