AET hands over 1st of three LNG-powered VLCCs to Shell
AET, a Singapore-based petroleum logistics unit of Malaysian energy logistics group MISC Berhad, has delivered its newest Very Large Crude Carrier (VLCC) powered by dual-fuel LNG engines on long-term charter to Shell Tankers (Singapore) Private Limited.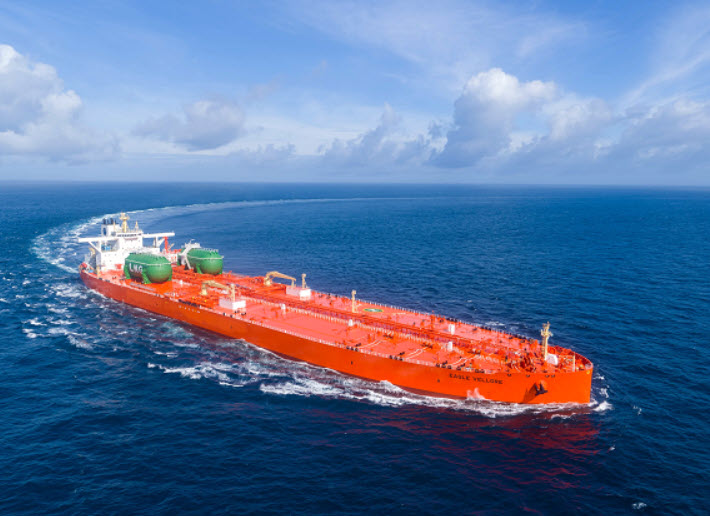 It is the first of three crude tankers to be delivered by AET to Shell, which chartered the newbuilds in March 2021.
The Malaysian-flagged 300,000 dwt tanker Eagle Vellore was named at a ceremony at the MMHE Pasir Gudang yard. The ship was built by Hanwha Ocean, formerly known as Daewoo Shipbuilding & Marine Engineering, and classed by Lloyd's Register.
"Today's naming of Eagle Vellore marks another significant milestone in strengthening our position as a sustainable shipping organisation. Adding another LNG dual-fuel VLCC to our fleet and our ongoing development of zero-emission vessels is consistent with our commitment to deliver more energy with less emissions, supporting customer demand and the world's need for energy security," Zahid Osman, President & CEO of AET said.
"I would like to thank Shell for their continued trust and confidence in us, building on our long-term collaboration, as we both look to further expand as leaders in shipping's energy transition."
"The delivery of the Eagle Vellore is an important addition to Shell's fleet of crude tankers. Fleet composition is an essential lever to tackle the decarbonisation challenge, requiring increased investment in dual-fuel capable vessels and efficiency measures. LNG benefits from mature technology and a growing bunkering network which have helped cement its position as the leading alternative fuel today, with bio and synthetic LNG offering a long-term pathway to decarbonisation," Stacie Pitt, Senior Vice President for Crude Trading at Shell, said.
"While we continue to invest in LNG, with over half of Shell's crude tanker fleet set to be dual-fuel LNG by the end of the year, we are also developing zero-emissions fuel options to support future decarbonisation of the shipping sector. Continued collaboration is integral to shipping's energy transition."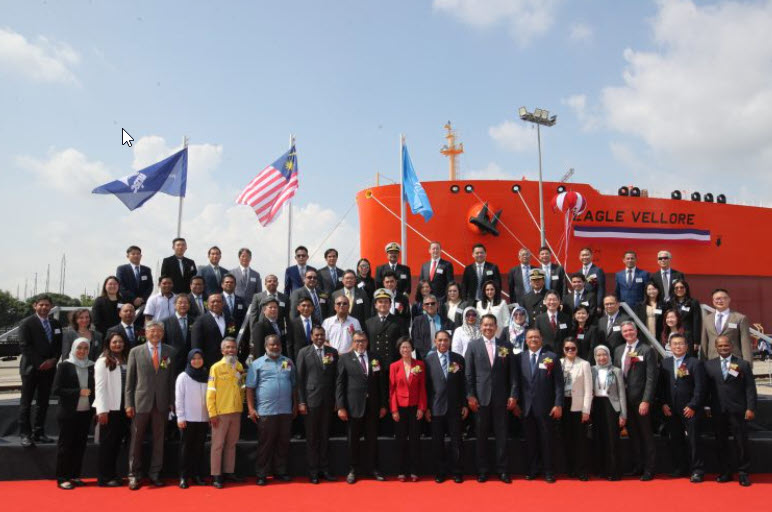 "The event today proudly signifies two pivotal milestones – celebrating the arrival of the second Malaysian-flagged eco-efficient LNG dual-fuel VLCC and marking the inaugural naming ceremony for such a vessel in Malaysia. This achievement showcases the MISC Group's firm dedication to supporting Malaysia's maritime journey and global leadership in sustainable solutions. It aligns with the Group's purposeful transition towards a sustainable future as we accelerate our efforts to meet the 2030 and 2050 GHG reduction goals," Capt. Rajalingam Subramaniam, AET Chairman and MISC President & Group CEO said.
Eagle Vellore's two sister vessels are currently under construction by Hanwha Ocean in Geoje, South Korea and are due to be delivered later this year on a long-term charter to Shell Tankers (Singapore) Private Limited. Both AET and Eaglestar site teams have been working closely together with the yard to ensure the safe delivery. Eaglestar is also the appointed ship manager of Eagle Vellore and its two sister vessels.
Classed by Lloyd's Register, the three ships feature optimised hull forms and propellers, wake improvement ducts and rudder bulbs to further improve their energy efficiency. The VLCCs comply with IMO's 2025 EEDI Phase III. They achieve a 99% reduction in sulphur oxides, 85% reduction in nitrogen oxides, and 95% particulate matter.