Alaskan tribe applies for tidal power license
The Igiugig Village Council has submitted to the Federal Energy Regulatory Commission (FERC) a final pilot license application for the hydrokinetic project that features ORPC's RivGen power system.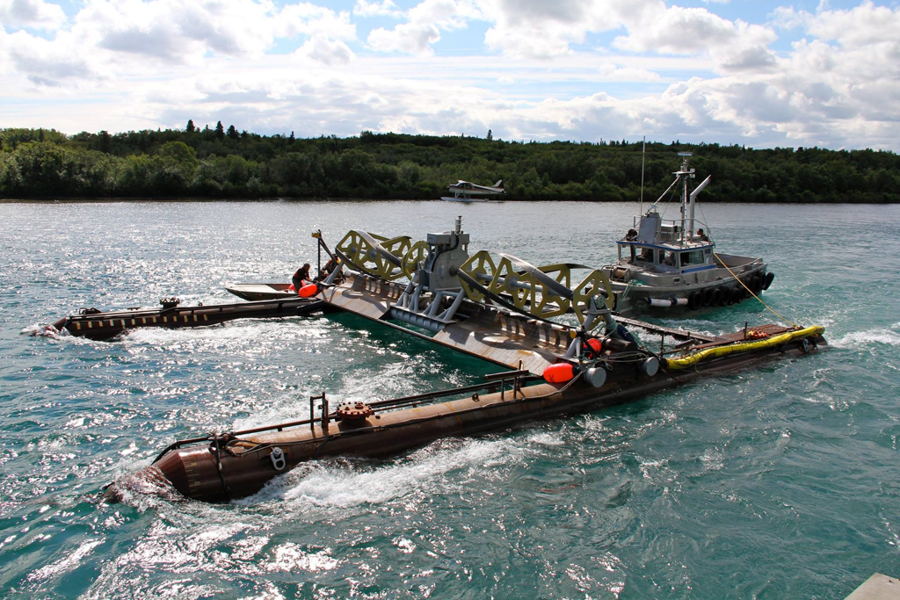 The marine renewable energy project will produce electricity generated from water currents in the Kvichak River for the Village of Igiugig, an unincorporated community with a year-round population of 70.
Using RivGen power system, provided by US company Ocean Renewable Power Company (ORPC), which incorporates in-stream turbines that require no dams or barrages, the project will help reduce reliance on and environmental risks from diesel fuel and stimulate Igiugig's economy through local employment and the lowering of electrical costs.
With approval of the license application just submitted, ORPC and the council will launch the hydrokinetic project in mid-2019 and with it, provide approximately half of the community's electricity needs.
Installation of a second RivGen power system is also being planned in Igiugig, according to the developers who said the environmental monitoring will continue with this project as well.
To remind, in 2014 and 2015, Igiugig and ORPC partnered on demonstration projects to verify engineering design, collect and analyze environmental data, and install, maintain and retrieve the RivGen system using locally-available personnel, vessels and equipment.
Christopher R. Sauer, ORPC's Co-founder and CEO, said: "This project is a critical and positive step forward in reducing the cost and environmental impacts of electricity generation in Igiugig and remote communities globally.
"The project's reliability and environmental suitability will be a catalyst for accelerated market adoption of marine renewable energy elsewhere in Alaska, and throughout northern Canada and other remote communities worldwide."
Igiugig's diesel-based electricity presently costs $0.91 per kWh to produce compared to the national average of $0.14 per kWh, according to the Igiugig Village Council.
A distinguishing feature of the RivGen power system is its ability to seamlessly integrate with isolated power grids that rely on diesel generators such as Igiugig's, offsetting diesel fuel use and allowing generators to be shut off entirely, according to ORPC.
This project is also supported by the US Department of Energy's Office of Energy Efficiency and Renewable Energy (EERE).