Alma Clean Power, Ceres partner on solid oxide fuel cells for ships
UK-based developer of clean energy technology Ceres and Norwegian provider of clean power systems for ocean industries Alma Clean Power have joined forces to work on the demonstration of a solid oxide fuel cell (SOFC) system for the marine market.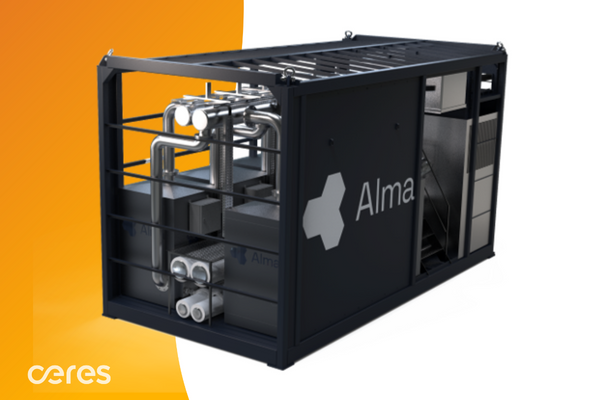 The announcement comes ahead of the Maritime Hybrid, Electric & Hydrogen Fuel Cell Conference, where Ceres and Alma will jointly present to industry peers on the benefits of solid oxide technology for the maritime market.
This initial project between the two companies, will integrate Ceres' highly efficient technology into a modularised power system, developed by Alma, using liquid natural gas (LNG). Ceres will provide solid oxide fuel cell stacks for the development and validation of the power system.
Meanwhile, Alma will develop and build the 80kW system that will be tested during 2024 in Stord, Norway, before being transferred to a vessel for further testing.
"Our partnership with Alma will combine our highly efficient technology, with Alma's marine systems development capabilities and market access.  Decarbonising marine, one of the hardest to abate industries, is a crucial challenge for the globe to meet its net zero ambitions. We are excited to be collaborating with Alma, to drive the transition to a greener future for shipping," Tony Cochrane, Chief Commercial Officer at Ceres, said.
"The Ceres technology has a favourable weight and power density ratio, and its ease of integration made it a natural choice for Alma's first natural gas demonstrator. Ceres partner's fast production volume ramp-up addresses the cost reduction hurdle naturally associated with innovative and nascent technologies, which has been another decisive factor for Alma. We are excited about the opportunity to take this technology onboard a ship and the chance to advance our delivery of future-proof power solutions for deep sea shipping and offshore," Hans Fredrik Kjellnes, CTO Alma Clean Power, added.
Alma Clean Power has earlier collaborated with classification society DNV and shipowner Odfjell in testing SOFC onboard a chemical tanker.
The project partners intend to place an 80KW natural gas-fuelled solid oxide fuel cell container on board one of Odfjell's chemical tankers, to demonstrate SOFC as an efficient energy converter for deep-sea shipping. 
SOFCs are fuel flexible, and can convert fuels like ammonia, LNG, methanol and hydrogen to electricity with a potentially higher energy efficiency than internal combustion engines.