AMOG concludes Sea-Saw wave energy device trials
AMOG Consulting has completed model testing of its Sea-Saw wave energy converter as part of the EuropeWave project.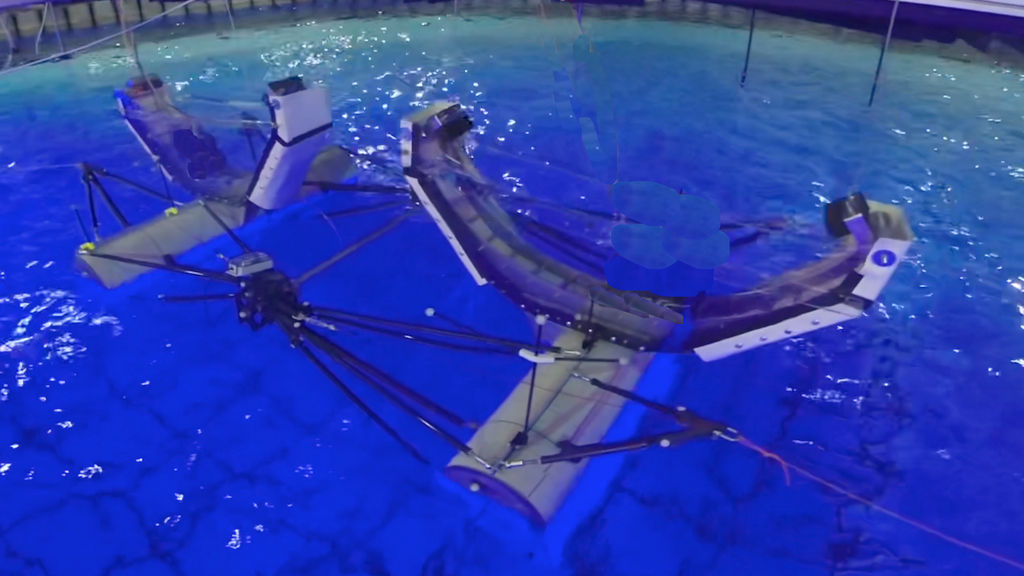 The trials took place at the FloWave circular tank facility within the University of Edinburgh in Scotland, with the support of the EuropeWave pre-commercial procurement (PCP) program.
The AMOG Sea-Saw wave energy device, designed and built at model scale, includes integrated power take off units to enable direct power take-off (PTO) measurements.
According to AMOG, this was one of the most successful power-producing tests to date, and they will underpin the development of the company's grid-scale wave energy converter.
The testing campaign included a series of IEC regular wave and irregular wave specification tests, along with robustness checks on quartering conditions, AMOG informed.
The company is developing a wave energy technology that is a dual hinged hull combined surge and pitch device with two PTOs.
AMOG's guiding principles for developing wave energy converter technology state that all moving parts of the device must be above the sea surface for improved reliability, and inspection and maintenance operations.
It was this principle that proved useful for AMOG's single hull Gen 1 wave energy device, which was tested offshore Cornwall in 2019, according to the company.
"AMOG has experience performing model basin tests for numerous clients, operating in different sectors and with a range of floating structures. This experience, complementing the company's expertise in areas such as floating systems, moorings and mooring integrity, and cables, provides a solid foundation of work to progress advances in wave and offshore renewable energy technologies," AMOG said in a statement.
The EuropeWave project, a five-year collaborative R&D funding program, is a partnership between Wave Energy Scotland and the Basque Energy Agency.
Match-funded by the European Commission via its Horizon2020 program, this transnational collaboration will channel almost €20 million to procure the most promising wave energy technology solutions from developers across Europe and beyond.
---
Follow Offshore Energy – Marine Energy
---