Update: OPEC+ agrees on output cuts. 'Iran exempted'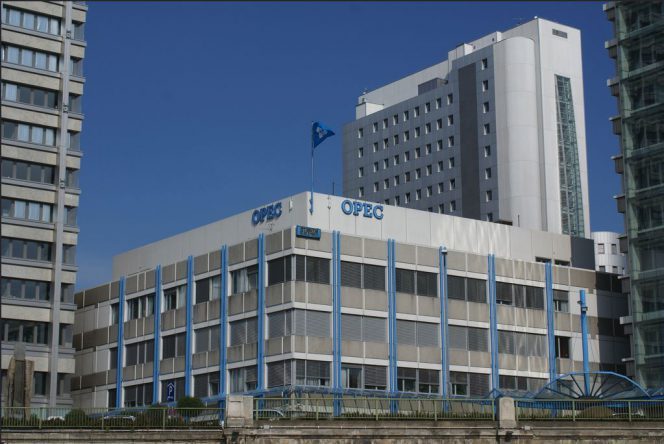 ---
Update: Adds OPEC's official confirmation on production cuts
---
The Organization of Petroleum Exporting Countries has struck a deal with its Russia-led allies to cut production by 1.2 million barrels a day, in order to bring up oil prices.
Bloomberg had on Friday first reported of the agreed production cut agreed in Vienna, saying it was larger than expected, adding that of the full target, OPEC would cut 800.000 a day.
The business news agency said Iran had managed to secure an exemption from the cuts implying the waiver was granted due to the recently reimposed U.S. sanctions aimed at Iran's crude exports. There had been reports earlier that Iran, Venezuela, Libya would also be exempted.
Reuters reported that oil prices bounced more than 5 percent after the deal had been struck, with Brent crude oil rising $3.48 a barrel to a high of $63.54 on Friday afternoon.
A few hours later, OPEC released an official statement confirming what the media had earlier reported. The deal has been struck.
OPEC said the global economic growth outlook for 2019 was slightly lower than for 2018, which combined with the implications of macroeconomic policies and associated uncertainties, could potentially have ramifications for global oil demand next year.
"In view of the current fundamentals and the consensus view of a growing imbalance in 2019, the Conference decided to adjust OPEC overall production by 0.8 mb/d from October 2018 levels, effective as of January 2019, for an initial period of six months, with a review in April 2019," OPEC said.
OPEC said:"…The 5th OPEC and non-OPEC Ministerial Meeting, following deliberations on the immediate oil market prospects and in view of a growing imbalance between global oil supply and demand in 2019, hereby decided to adjust the overall production by 1.2 mb/d, effective as of January 2019 for an initial period of six months. The contributions from OPEC and the voluntary contributions from non-OPEC participating countries of the 'Declaration of Cooperation' will correspond to 0.8 mb/d (2.5%), and 0.4 mb/d (2.0%), respectively."
OPEC's official announcements did not reveal if any of the nations mentioned above would be given waivers.
The next OPEC and non-OPEC Ministerial Meeting will convene in Vienna, Austria, in April 2019.
While Bloomberg has described the cuts as larger than expected, Norwegian energy intelligence group yesterday said the OPEC + countries "must cut 2019 supply growth by 1.5 million bpd if they want oil prices back above $70 next year."
Bjornar Tonhaugen, head of oil market research at Rystad Energy on Thursday, ahead of the OPEC and non-OPEC two-day meetings, said: "To surprise the market in a bullish fashion, we believe cuts approaching 2 million bpd would have to be announced. Should OPEC+ announce a 1.5 million bpd cut, we believe the market reaction would be neutral at first, but gradually pave the way for a recovery in oil prices above the $70 level for Brent in 2019."
Also worth noting, U.S. President Donald Trump, who has yet to react, will probably not like the news, as he, ahead of the OPEC meeting this week, said:"Hopefully OPEC will be keeping oil flows as is, not restricted. The World does not want to see, or need, higher oil prices!"
Hopefully OPEC will be keeping oil flows as is, not restricted. The World does not want to see, or need, higher oil prices!

— Donald J. Trump (@realDonaldTrump) December 5, 2018
More to follow…
looks like we have a deal #OOTT
*OPEC MEETING ENDS W/ AGREEMENT ON 1.2M B/D OPEC+ CUT: DELEGATES pic.twitter.com/jzKes4bhDp

— Tina Davis (@tina_davis) December 7, 2018
Russian oil minister Alexander Novak is trying to broker a deal with Iran oil minister Bijan Zanganeh. Another sign of how influential (dare I say dominant!!!) Moscow is today in #OPEC affairs. If the deal happens, it's going to be thanks to Novak. | #OOTT https://t.co/8eGpItt5B8

— Javier Blas (@JavierBlas) December 7, 2018
#OPEC_plus_meeting
Alexander Novak @novakav1: I think at a current conditions its very important to send a strong signal to the market to adequately answer to the market situation. pic.twitter.com/FesqzLfsWe

— Минэнерго России (@MinenergoGov) December 7, 2018
#Highlights: Impressions of the 175th meeting of the #OPEC Conference. #OPECLive #OPEC175th. pic.twitter.com/RSrF5cu3Ib

— OPEC (@OPECSecretariat) December 7, 2018
Offshore Energy Today Staff