Bureau Veritas validates OceanQuest power curve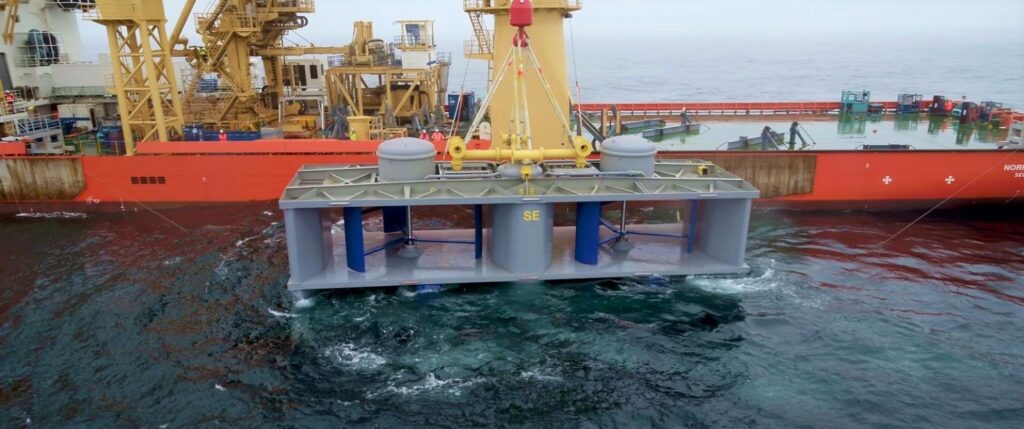 French tidal energy developer HydroQuest has obtained certification for its 1MW tidal turbine's power curve from classification society Bureau Veritas.
The tidal turbine OceanQuest, deployed in Paimpol-Bréhat, meets the requirements of the IEC 62600-200 standard evaluating the performance of the measurement of the power of tidal energy converters.
In May this year, HydroQuest marked the first anniversary of OceanQuest immersion off the coast of Bréhat Island.
After 12 months of effective operations, the the turbine was still fully operational and started its second year of operations.
The OceanQuest tidal turbine landed at EDF's Paimpol-Bréhat site in France in the spring of 2019.
Specifically the demonstration is part of French Agency for Environment and Energy Management (ADEME) call for projects.
This 1MW machine has been manufactured and fully assembled by CMN's (Constructions Mécaniques de Normandie) teams in Cherbourg.
HydroQuest designed the OceanQuest around its proprietary turbine technology which inherits from over a decade of expertise.
Additionally, the new generation of HydroQuest tidal turbines will be one of the most powerful with a nominal power of 2.5MW.
They will first feature in a 10MW pilot farm in Le Raz-Blanchard, Normandy.
The Grenoble-based firm also aims to deploy its 1MW tidal turbine in North Wales at the Morlais tidal energy project.
HydroQuest is developing hydrokinetic technology for both river and ocean application. The company installed its first river tidal turbine at the SEENEOH test site in Bordeaux in January 2018 and launched the device at the inauguration of the test site in March.