Carbon Clean to carry out FEED on Acorn carbon capture plant
CO2 separation tech provider Carbon Clean has been awarded the contract to carry out the front-end engineering design (FEED) services for the Acorn carbon capture plant at St Fergus.
The Acorn project is currently the most mature carbon capture and storage (CCS) and hydrogen projects in the UK and provides critically important infrastructure that will enable industries and homes across Scotland, the UK, and Europe to decarbonise.
Acorn CCS is currently in the detailed engineering and design phase of the project. The CO2 capture facility is aiming to be operational at the St Fergus gas terminal complex by the mid-2020s.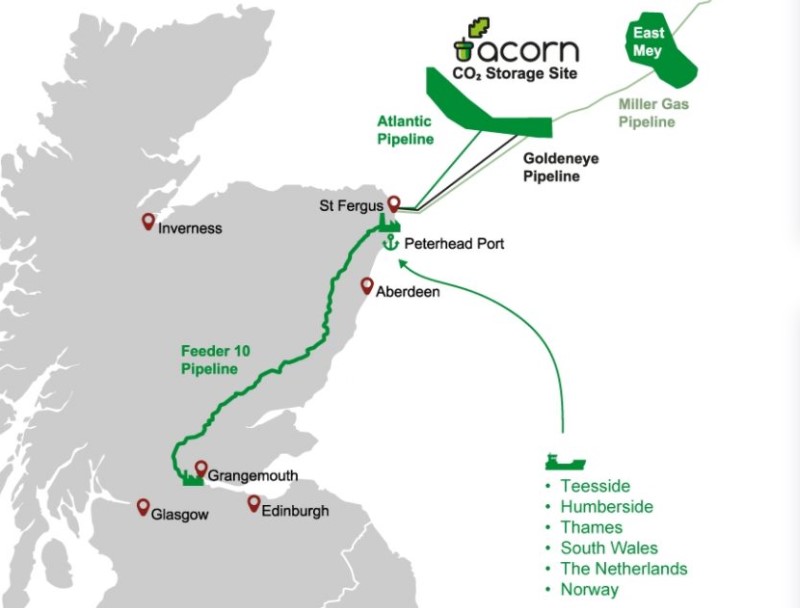 The captured CO2, together with CO2 volumes from other emitters, will be transported and permanently stored offshore, with annual storage volumes anticipated to grow to 5-10Mt/yr of CO₂ by 2030.
If this potential is realised, that would be at least half the CO2 emissions set out in the UK Government's Ten Point Plan for a green Industrial Revolution by 2030. The project is due to be one of the first industrial-scale carbon capture projects in the UK.
The St Fergus gas terminal, located some 65 kilometres north of Aberdeen, is integral to meeting UK gas requirements daily and helps maximise the value of the North Sea's natural storage potential.
By reusing existing gas pipelines, Acorn will transport the captured CO2 from the gas terminal stacks, into well-understood CO2 storage sites. This establishes a full-chain carbon capture and storage process and a large CO2 transport and storage solution that will then be scaled to meet further demand.
The CCS network created through the Acorn Project has the potential to be one of the largest operating CCS projects in the world, transporting and storing captured CO2 from emitters across Scotland, the UK and Europe.
As for Carbon Clean, it will work in collaboration with Wood, on engineering, process design and construction planning for the carbon capture process unit.
Nick Cooper, CEO of Storegga the lead developer of the Acorn Project, said: "It is excellent working with a group as innovative as Carbon Clean. Like us, they started as a small entrepreneurial business and have used UK Innovation Funds to create organisations that are now ready to significantly contribute to the UK energy transition".
Aniruddha Sharma, CEO of Carbon Clean, stated: "Carbon Clean has a proven track record of delivering scalable, cost-effective carbon capture solutions. I am delighted to announce our second UK-based project of 2021.
"The carbon dioxide we are hoping to capture from the Acorn CCS Project will have a tangible impact on the UK's transition to net zero. We look forward to getting underway with the FEED stage and working with the other consortium partners to implement novel carbon capture and storage solutions".
Anne-Marie Trevelyan, UK Energy and Climate Change Minister, claimed: "The UK is fast becoming a world leader in developing new technology that captures and stores harmful emissions.
"Pale Blue Dot and Carbon Clean, who have received £11 million ($15.2 million) UK government funding, will help the UK go further to deploy critically important carbon capture and hydrogen infrastructure that will help British industries to decarbonise in a way that's competitive and projects jobs".