China builds its largest unmanned boat classed by CCS
The Zhi Kun, an unmanned boat constructed by Taizhou Maple Leaf Ship Industry Co., Ltd., has been completed under the certification of the China Classification Society (CCS).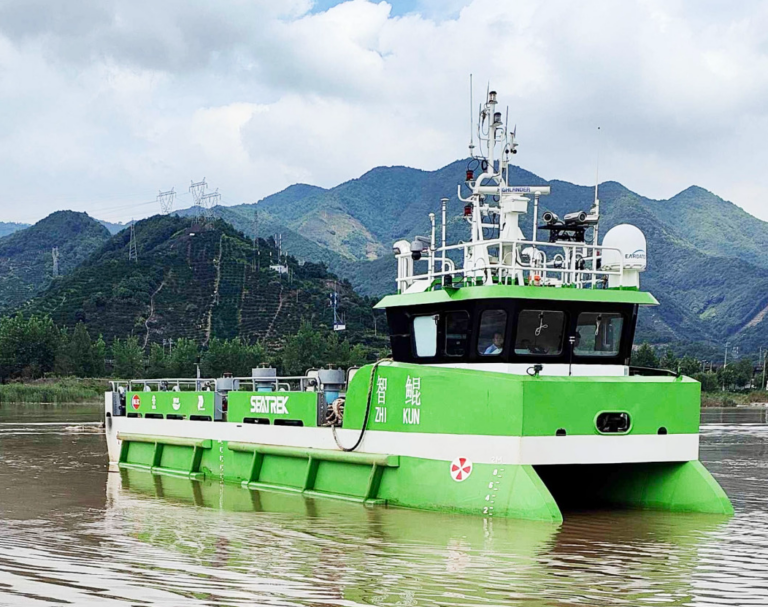 Measuring 19.90 meters in length, the Zhi Kun stands as the largest unmanned boat to be constructed in accordance with the CCS's "Guidelines for Inspection of Unmanned Surface Vehicles."
Sporting dimensions of 5.5 meters in width, 2.4 meters in molded depth, and a draft of 0.9 meters, the boat boasts a design speed of 15 knots.
It features a catamaran hull design, 360° full-rotational propellers, and dual-generator DC network electric propulsion. The propulsion system includes DC electric propulsion with rudders and propellers or battery-driven propulsion with rudders and propellers, enabling remote control operation, autonomous berthing, and independent navigation capabilities.
The boat is composed of seven subsystems, including hull system, power system, perception system, navigation and positioning system, route control/obstacle avoidance system, communication system, and shore-based control system.
Throughout the construction inspection, close collaboration was maintained among the project team, the shipyard, CCS and Beihang University's Hefei Innovation Research Institute.
The classification society said that a series of online and on-site technical exchange meetings facilitated the anticipation and resolution of relevant technical challenges. As a result, timely adjustments to the testing procedures were made, ensuring the seamless completion of the unmanned boat project, CCS added.