ClassNK grants AiP for Kawasaki's LNG-fueled bulker design
Classification society ClassNK granted approval in principle (AIP) to Kawasaki Heavy Industries (KHI) for the concept design of an LNG-fuelled 207,000-DWT bulk carrier.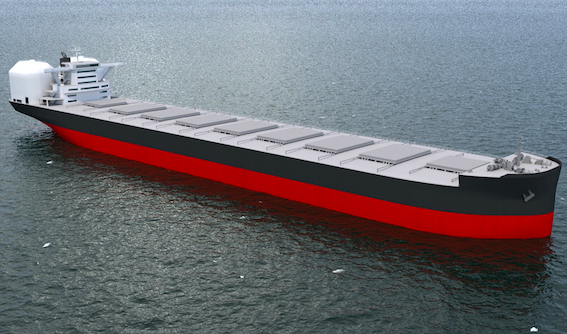 With the International Maritime Organization (IMO) imposing tighter restrictions on emissions of greenhouse gases and air pollutants, the shipping industry has been increasing its focus on utilizing LNG in place of conventional fuel oil.
In its statement, KHI noted that configuring the LNG fuel tank behind the accommodation in the stern, the ship keeps its cargo space as large as that of conventional oil-fueled ships.
ClassNK noted in its statement that the AiP was granted based on its Rule Part GF which adopts IGF Code (regulation for ships using low-flashpoint fuels).
Kawasaki has been developing various LNG-related vessels, such as the world's first LNG-fueled car carrier, delivered in 2016, and LNG bunkering vessels, garnering LNG-related application technology.
In addition to the additional technological innovations developed during the course of acquiring AiP for this bulk carrier, Kawasaki said it is fully equipped to proceed with its design and building, as well as to apply these technologies to other types of ships.
Moving forward, Kawasaki plans to widen its application of LNG propulsion technology in commercial vessels and to increase its focus on building LNG-fueled vessels, for which demand is expected to grow globally in the future.