CMES, BHP and DNV to share voyage data to cut maritime carbon emissions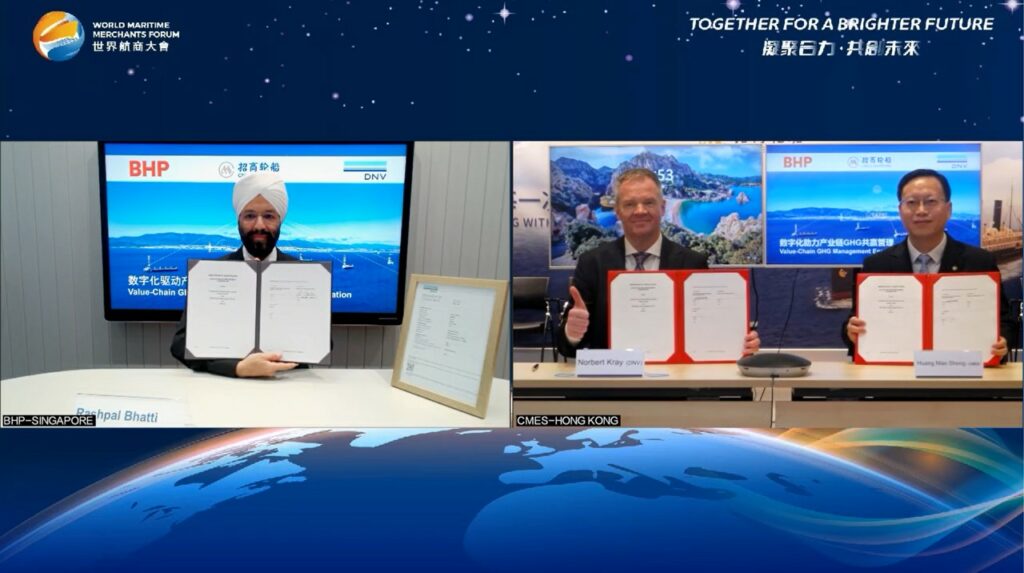 China Merchants Energy Shipping (CMES), BHP and DNV have signed a Memorandum of Understanding (MOU) to collaborate on industry value chain greenhouse gas (GHG) management.
The signing took place in conjunction with the second World Maritime Merchants Forum in Hongkong, organized by CMES.
The MOU seeks to enable close cooperation between the ship owner and the charterer with the aim of achieving further energy efficiencies and GHG savings through improved voyage data collection. The data would be verified and shared via DNV's Veracity data platform in collaboration with the industry partners' digital management systems.
With tightening environmental regulations and ever more ambitious GHG savings expectations from cargo owners and financiers, it is crucial for ship owners to accelerate the reduction of GHG emissions from their operations and for charterers to help enable this where they can.
To this end, CMES, BHP and DNV have started their first joint pilot project, which focuses on the exchange and analysis of quality-assured data from selected ships and voyages.
The first-ever Voyage GHG Verification Statement was issued by DNV as part of the pilot project, with the goal of establishing a trusted common source of data truth ​for use in various current or potential future business scenarios such as:
Scope 1 (ship owners) and Scope 3 (charterers) emissions reporting,
Carbon trading and taxation settlement,
GHG emissions compliance and improvement (e.g. CII and EEXI),
Fuel usage and GHG emissions reductions.
DNV will quality-assure and verify the data to boost data-sharing transparency. It is expected that shipowners and charterers who work closely on data sharing may be able to reduce operational emissions by up to 15% compared to cases where there is little practical cooperation.
"China Merchants Energy Shipping is a company that embraces digitalization transformation and honours its duty to a decarbonized shipping community. We are thrilled to be pioneering cross-value chain GHG management driven by digitalization with leading industry partners such as BHP and DNV. To master the industry's challenges of tomorrow all parties across the value chain must come together on a trusted basis and establish a common source of data truth," said Huang Mao Sheng, Vice President of CMES.
"Vessel owners who are early adopters of cross-value chain data sharing will likely have an advantage among charterers like BHP who have set targets for GHG emissions reductions and have the tools, like the Veracity platform, to help them assess, analyse, benchmark, and measure GHG emissions reportable within Scope 3. We look forward to the results of the first joint pilot and call for more industry stakeholders to join the journey and collaborate to better manage value chain GHG emissions," said Rashpal Bhatti, Vice President of Maritime and Supply Chain Excellence, BHP.