Containership orderbook drops below 10% threshold for the 1st time in 20 years
The global containership orderbook, seen as a percentage of the world fleet, has dropped to a historic low in July 2020, standing at only 9.4% or 2.21 million TEU, data from Alphaliner shows.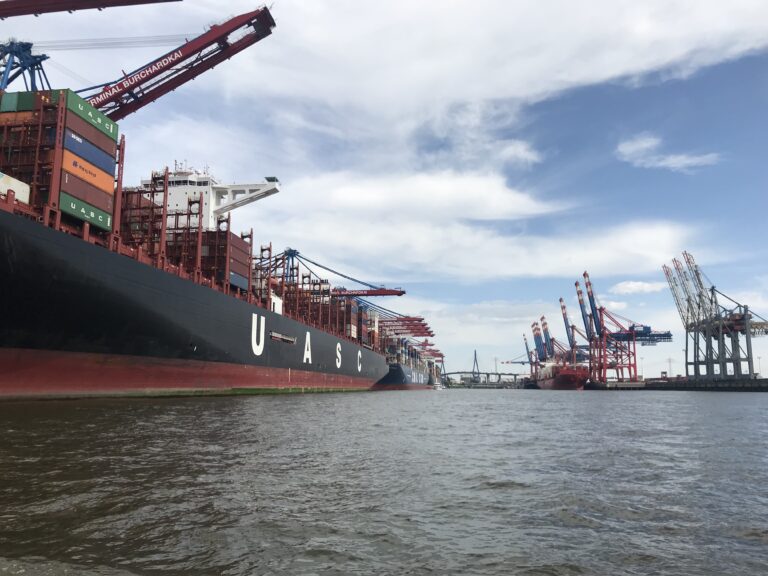 This was the first time in more than 20 years, the global newbuilding pipeline fell below the 10% threshold.
The figures are a culmination of the continuing declining trend of the past four years.
In the aftermath of the 2008-2009 recession, container ship orders kept coming in and the vessel pipeline remained stable in absolute terms, lingering around the 4 million TEU mark as owners were bullish on the prompt recovery of the global economy and wanted to avail of attractive newbuilding prices.
Ever since however, the orderbook has declined from 3.55 million TEU in July 2016 to 2.84 million TEU in July 2018, and it has eroded further to today's low of just 2.21 million TEU, Alpjaliner's data further shows.
The ripple effect of the COVID-19 pandemic has definitely impacted the trend, however, the slowing down of new ordering has been attributed to the lingering overhang of unemployed tonnage that served as a deterrent to new orders.
"With the exception of some short peak-season weeks, there was hardly a moment in the last ten years when there was not at least some inactive container tonnage," Alphaliner said.
"Seasonal unemployment frequently peaked at between 1.00 and 1.50 million TEU of capacity, not to mention this year's 2.50 million TEU peak that was initially caused by IMO2020-related scrubber conversions until COVID-19 took over to wreak havoc on the shipping market."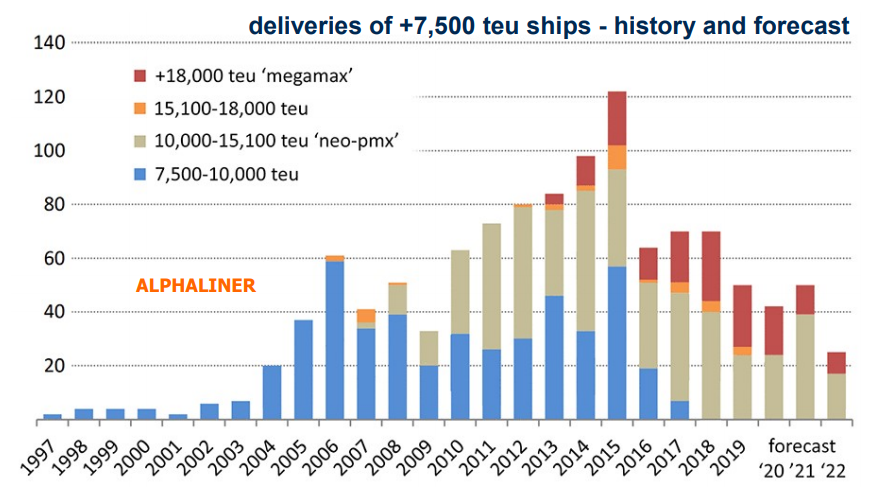 Data from the shipping consultancy also points to a gap in the 15-18 K TEU as well as zero orders in the 4-9.9 K TEU, while the orderbook for ships larger than 10K TEU exceeds 2 million TEU.
The expected influx of ULCSs will continue to exert pressure on the mid-size sector as larger ships are cascaded into smaller services.
Some orders in the mid-size sector are expected, but most likely would be tailored for specific trades.
For the time being, liner majors that had big orders in plan, like Hapag-Lloyd and Japanese Ocean Network Express (ONE), who allegedly asked the shipyards to come up with offers for a series of 23,000+ TEU ships last year, have shelved their plans.
Furthermore, Alphaliner believes there might well be a small overhang of zombie orders in the official newbuilding pipeline, meaning orders that have been signed and announced (or at least reported) only to be quietly dropped, renegotiated or deferred at a later stage.
"This could mean that the real-world orderbook is actually still a bit smaller than the one on paper. Since many shipyards are slowly and surely running out of work, lead times for standard container vessels have come down a lot and plenty of relatively near term building slots are available," the shipping consultancy said in a weekly newsletter.
As such, owners commiting to newbuildings in the upcoming period, could get their ships as soon as early 2022.
The total orderbook for dry bulk, container and tanker ships has reached its lowest point in 17 years as Covid-19 massively slowed contracting (-50%), BIMCO's data shows.
However, deliveries of new vessels have proved more resilient (-2%), as shipyards work through lockdowns to meet their delivery schedules and remain busy.