COSCO Shipping Energy buys into MOL's LNG carrier trio
China's tanker major COSCO Shipping Energy Transportation Co. revealed that it will take part in the investment and construction of three LNG carriers.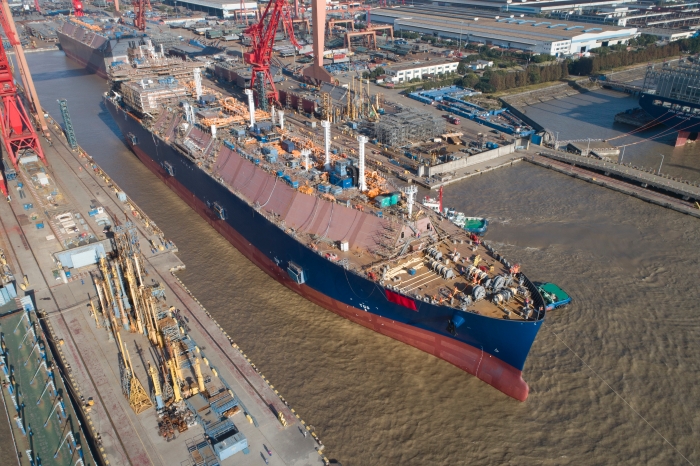 This endeavor will see COSCO Shipping LNG Investment acquire a 49% stake in three single-ship companies established by Japanese Mitsui O.S.K. Lines, Ltd. (MOL) in Liberia. The project aims to construct three 174,000 cubic meter LNG carriers at Hudong-Zhonghua with delivery set for 2028.
These three vessels were commissioned by MOL in September of the previous year, following their commitment to procure ten similar units. Six of these vessels are slated for charter with CNOOC Gas & Power Group, a subsidiary of China National Offshore Oil Corporation (CNOOC).
The estimated total investment for this project is approximately $ 241.07 million per ship.
The three newly constructed vessels are set to enter into charter agreements with ENN LNG, a Singapore-based subsidiary of China's ENN Natural Gas. ENN Natural Gas plays a significant role in China's natural gas market, supplying approximately 10% of the country's natural gas needs and operating an LNG terminal in Zhoushan, Zhejiang Province.
COSCO holds interests in more than 70 LNG carriers.
The resolution was passed with unanimous approval from the company's board.
The board also gave its approval for the financing plan for the construction of two conventional LNG vessels by Shanghai COSCO Shipping Liquefied Natural Gas Investment Co., Ltd., a wholly-owned subsidiary of China COSCO Shipping Energy.
The latest deal comes on the heels of a construction contract for two LNG carriers COSCO Shipping Energy and PetroChina signed with Hudong-Zhonghua Shipbuilding.
The deal for the construction of 174,000-cbm LNG carriers was signed in Shanghai on 25 July. The vessels are part of the LNG Transportation Phase III Project, which is jointly developed by COSCO Shipping, PetroChina, and CSSC.
Three 174,000-cubic-meter ships Shaolin, Wudang, and Kun Lun were successfully put into operation in the first phase of the project, and three ships of the second phase are under construction. 
The latest order for two LNG carriers marks the beginning of the third phase of this project.