Hudong-Zhonghua locks in new order to build LNG carrier duo for COSCO, CNPC
Chinese shipbuilder Hudong-Zhonghua Shipbuilding has signed a contract with COSCO Shipping Energy and PetroChina, part of China National Petroleum Corporation (CNPC), to build two liquefied natural gas (LNG) carriers.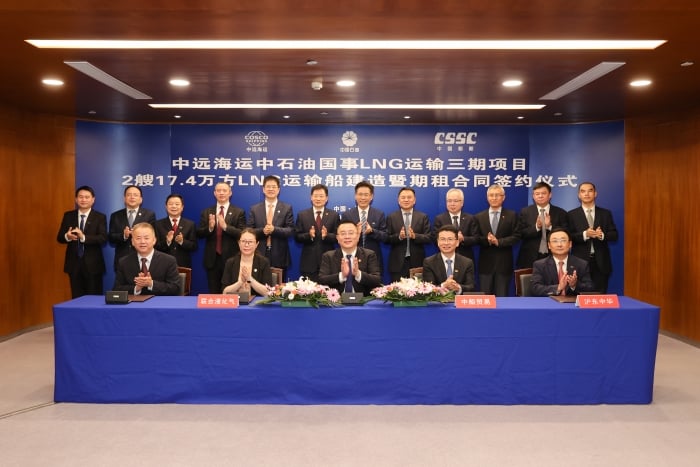 As informed, the deal for the construction of 174,000-cbm LNG carriers was signed in Shanghai on 25 July. The vessels are part of the LNG Transportation Phase III Project, which is jointly developed by COSCO Shipping, PetroChina, and CSSC.
Three 174,000-cubic-meter ships Shaolin, Wudang, and Kun Lun were successfully put into operation in the first phase of the project, and three ships of the second phase are under construction. 
The shipbuilder has optimized the design of the ships, which feature low energy consumption, high reliability, and high environmental protection technology. The LNG carriers have a total length of 295 meters, a molded width of 45 meters, a molded depth of 26.25 meters, and a speed of 19.5 knots. They are classified by the Chinese Classification Society (CCS).
To remind, COSCO and CNPC placed an initial order for three LNG carriers at Hudong – Zhonghua back in 2020. In June 2021, CNPC ordered three more 174,000 cbm carriers at the same shipyard.
At the end of 2021, Hudong – Zhonghua received another order for three LNG carriers from COSCO Shipping Energy Transportation Co. The vessels are slated for delivery in September 2024, December 2024, and March 2025.
The new order for two LNG carriers marks the beginning of the third phase of this project.
Meanwhile, COSCO Shipping Energy and PetroChina also signed a strategic cooperation agreement on 24 July.
Under the agreement, the two parties will comprehensively deepen cooperation in oil tanker transportation, LNG transportation, chemical liquefied gas, new energy industry chain, carbon emissions and carbon trading, and maritime security.