Crestwing wraps wave device optimisation tests
Danish wave energy developer Crestwing has concluded the testing activities on its scale wave energy device model at Danish Hydraulic Institute (DHI).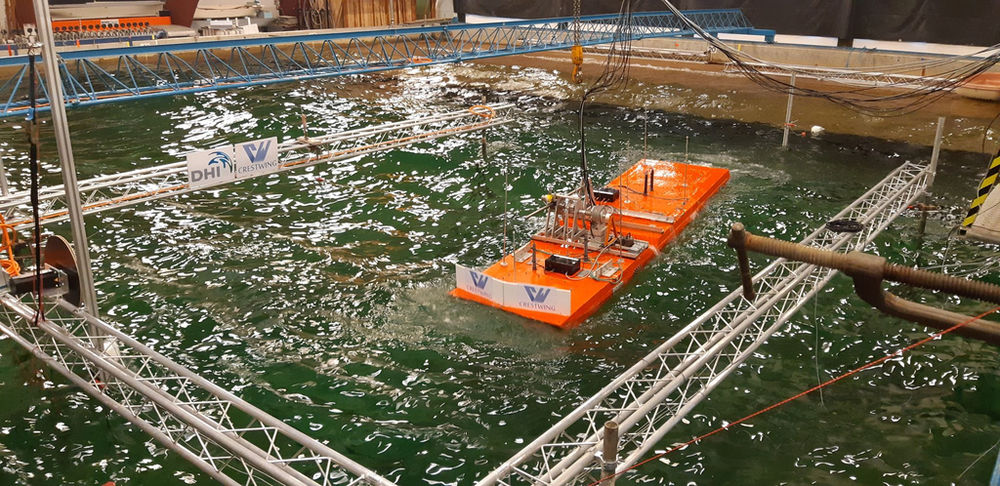 The immediate results collected from tank tests performed at DHI indicate Crestwing demonstrated the high efficiency of its wave energy plant, the company said in a social media update.
Crestwing said it documented the seaworthiness and durability of the design of its plant in several different wave environments during the trials.
The tank tests at DHI also served for the collection of data needed for the development of best-possible power take-off (PTO) system both for the future tests on the company's Tordenskiold prototype, as well as for a planned full-scale plant.
The testing campaign was announced earlier by Crestwing following the release of a technical report by Danish-based multidisciplinary engineering consultancy NIRAS which analysed Crestwing's wave energy concept.
NIRAS' identified the potential for efficiency improvements in converting wave energy to electricity, while confirming the concept's ability to withstand the marine environment without significant wear or damage.
At the time, Crestwing said it would go back to tank testing at the DHI in collaboration with ABB who will oversee the data collection during the now completed campaign.
Crestwing's wave energy technology falls under the attenuator type of floating wave energy devices which operate parallel to the wave direction, with a hull designed as that of a ship.
These devices capture energy from the relative motion of their two arms as the wave passes them.
To remind, Crestwing completed the second offshore testing campaign on its Tordenskiold wave energy device prototype back in November 2020.
During the real-sea trials, Crestwing collected data on the plant's capacity and efficiency in all kinds of weather, from small waves to storms and hurricanes, which will be used for further optimisation of the technology.