Damen Shipyards introduces the new Fast Crew Supplier 3210 Hybrid
Damen Shipyards is introducing a new addition to its popular Fast Crew Supplier (FCS) crew transfer vessel range. The FCS 3210 Hybrid has been designed to transport technicians to the new generation of wind farms that are being built further offshore than ever before. The new vessel is based on Damen's existing FCS 2710 but at 32 metres in length it is five metres longer. It has also been designed looking ahead to the future.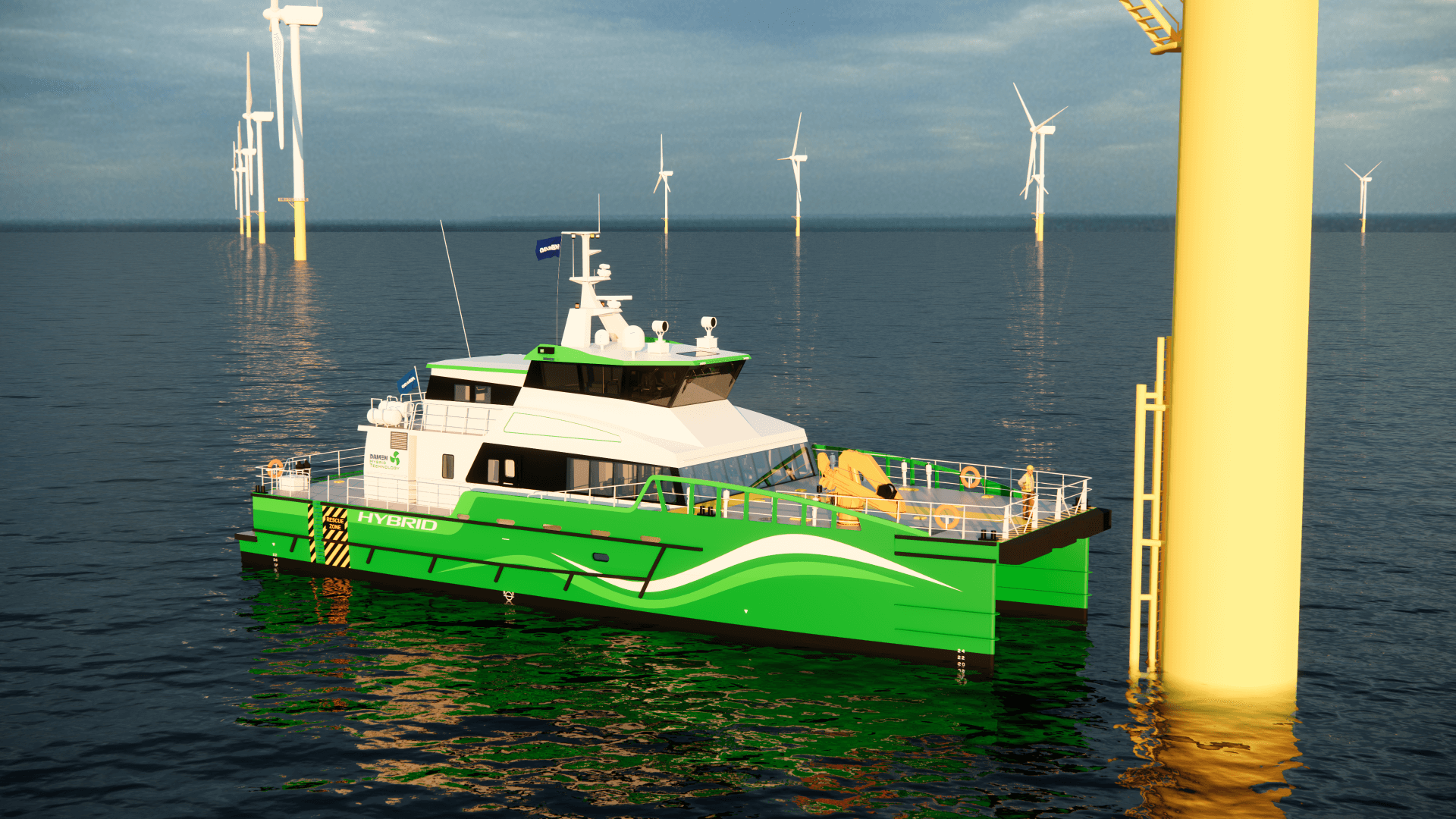 The additional length not only increases its sea-keeping capabilities, it also ensures that free space will be available for future, low or zero carbon propulsion systems and their fuel tanks. In its initial design the FCS 3210 Hybrid will have a diesel-electric power plant.
Four diesel gensets will generate electricity to both power the drive trains and charge the onboard batteries. Having a fully electric drive train from the outset will maximize flexibility for owners when they come to make the move to alternative fuels, and the batteries will allow the vessel to operate with zero emissions when required and can be charged using just one genset for extended, low speed, low-emissions operations.
To further minimise emissions, the vessels will be able to connect to shore power where available to charge the batteries as well as provide electricity for their hotel systems.
The diesel-electric power plant ensures that the necessary electrical infrastructure is in place to handle all the power that may be required to operate the vessel. This gives owners flexibility in selecting the actual systems that they use to supply the power. At present this is done by the four diesel gensets and batteries, but in the future they can be upgraded to bigger batteries, fuel cells, methanol gensets or a combination of the above.
In fact, flexibility is a feature throughout the vessel. Damen has also designed the machine room so that it can accept Volvo IPS, Fixed Pitch Propellers, Controllable Pitch Propellers and waterjets, according to each owner's requirements.
The FCS 3210 Hybrid can carry up to 14 crew and 28 technicians for near shore operations. For long range deployments out to sea lasting up to a week it has berths for ten personnel in five cabins with the option of another two cabins on the lower deck accommodating another four personnel. With a range of up to 1200 nautical miles it is more than capable of handling long distance assignments, aided by a top speed of 24 knots using diesel / electric propulsion and 14 knots on full electric.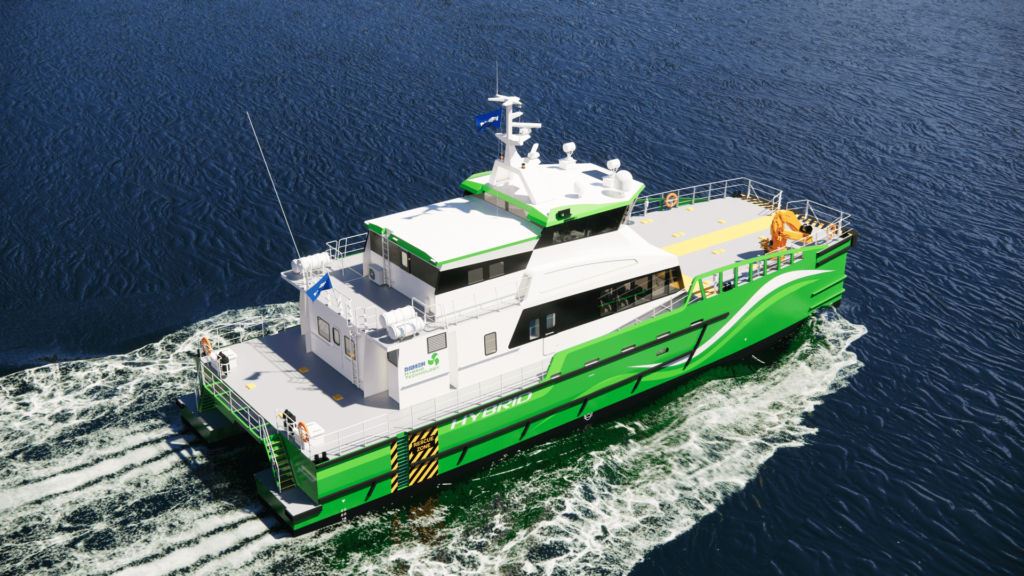 The larger hull makes the journey smoother in higher sea states than smaller equivalents, further enhancing its flexibility.
"The need for vessels of this type is now a reality, with the Dogger Bank Wind Farm producing electricity for the first time in early October," says Ruben de Jong, Design & Proposal Engineer at Damen Shipbuilding. "On completion its 277, 13 MW wind turbines will be on average 160 kilometres off the UK's east coast. It and similar projects around the world will require fast, economical support vessels."
The FCS 3210 Hybrid retains many of the features that have made the FCS 2710 a success. However, the larger hull together with feedback from operators of the FCS 2710 has enabled a number of additional enhancements. These include a larger wet room for clothing and other gear, and there is also deck space available at the stern that can be used for containerised storage of equipment.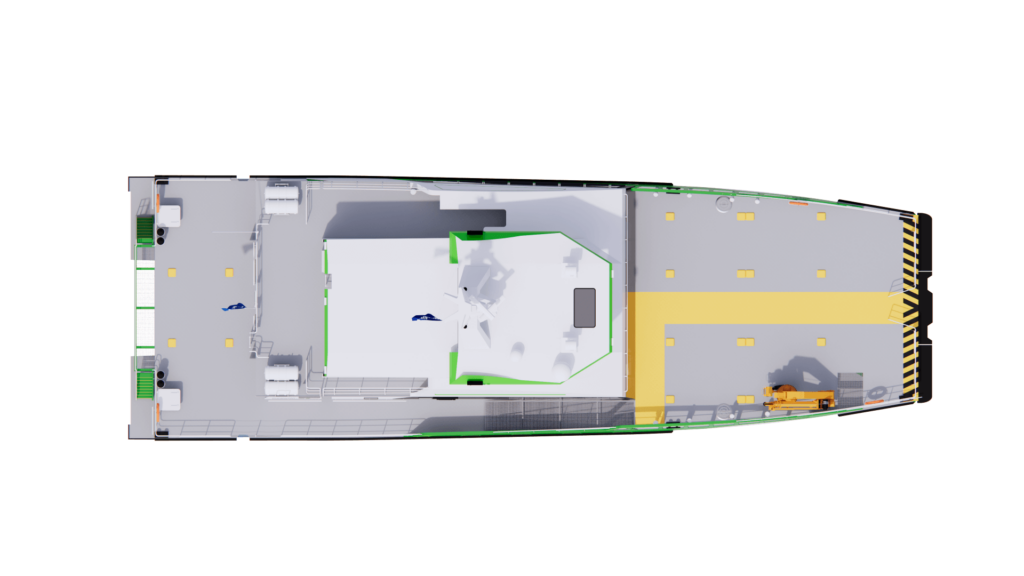 The bridge deck has been extended to take two additional cabins plus a ship's office. Like the FCS 2710, however, personnel and equipment transfers are still made via the foredeck.
"The FCS 3210 Hybrid will be a valuable addition to our Fast Crew Supplier range," continues Ruben de Jong. "We already have an order for three vessels from Purus Wind for delivery in early 2026 and will be building them in series for accelerated delivery."
Contact
I                   www.damen.com
Note: The opinions, beliefs, and viewpoints expressed in this article do not necessarily reflect the opinions of Offshore-Energy.biz