DFDS to deploy battery-powered fleet on the English Channel by 2030
Danish ferry and logistics company DFDS is planning to deploy a fleet of battery-powered vessels in the Eastern Channel by 2030.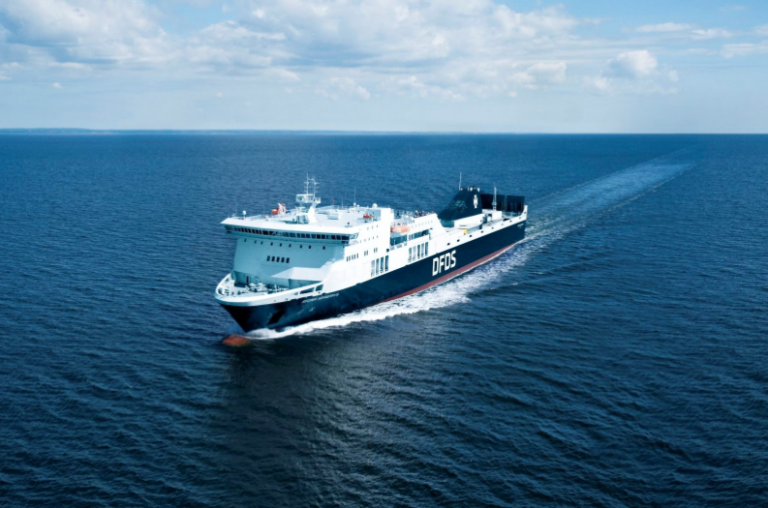 The decision was revealed on the heels of a recent meeting between the French Minister for Foreign Trade, Attractiveness and French Nationals Abroad, Olivier Becht and CEO of DFDS, Torben Carlsen where they discussed the urgent need for decarbonization in the maritime sector and the electrification of traffic across the English Channel.
As a result of this conversation, DFDS has pledged to make substantial investments in innovation and technology, with plans to deploy a fleet of battery-powered vessels in the channel by 2030.
The proximity of France and the United Kingdom makes the English Channel an ideal location for electric ferry transport. Short distances and the urgency of reducing carbon emissions have led DFDS and the French Government to collaborate in an effort to accelerate the transition towards a more sustainable future for the shipping industry.
"We have a shared ambition with the French Government to accelerate the transition to a greener future for the shipping industry. This is not an easy task. It requires significant investments in innovation, technology, and infrastructure, as well as collaboration and partnerships between the public and private sectors. But I am positive that we are on the right track," Torben Carlsen, CEO of DFDS, said.
"We will invest in green vessels and cooperate with ports and governments on both sides of the channel to decarbonize cross-channel transportation,"
The English Channel is one of the world's busiest shipping routes, connecting two of the largest economies globally. It is responsible for 33% of trade between the European Union and the United Kingdom.
"The green transition is a complex challenge that requires all hands on deck. We need support from public authorities, infrastructure parties, utility providers, customers, and suppliers. I am happy to continue our cooperation with the French government to accelerate the decarbonization and enable green transport corridors across the English Channel," added Carlsen.
Decarbonizing maritime transportation isn't solely dependent on the vessels at sea; it also requires robust onshore infrastructure and power supply to support recharging facilities in ports. Collaboration between public authorities, infrastructure providers, utility companies, customers, and suppliers is pivotal in achieving the transition to greener maritime transport.
Earlier this year, DFDS, in partnership with the Port of Dover, Port Boulogne Calais, and Dunkerque-Port, signed a memorandum of understanding to collaborate on the decarbonization of maritime traffic in the Dover Straits.
In 2020, DFDS launched a two-stage climate action plan with a short-term goal of reducing the relative CO2 emissions of its ships by 45% by 2030. Their long-term objective is to achieve carbon neutrality by 2050. The electrification of the Channel fleet represents a significant milestone in these efforts.
In its ongoing commitment to decarbonization, DFDS has completed a series of initiatives to reduce emissions from its existing ferry fleet. Among these initiatives were testing of 100% biofuel on ferries, enhancing the fleet's efficiency and environmental impact by applying anti-fouling hull paint to reduce water friction.
In the realm of engine optimization and fuel efficiency, DFDS is installing new injection systems on 13 ferries to enhance combustion and fuel savings through the PMI VIT technology. Furthermore, 13 other projects encompassing waste heat recovery, excess energy management, and hull modifications are being undertaken.