Diana orders two methanol-powered Kamsamaxes
Greek dry bulk shipping company Diana Shipping has signed a letter of intent to procure two 81,200 dwt methanol dual-fuel Kamsarmax dry bulk newbuilds.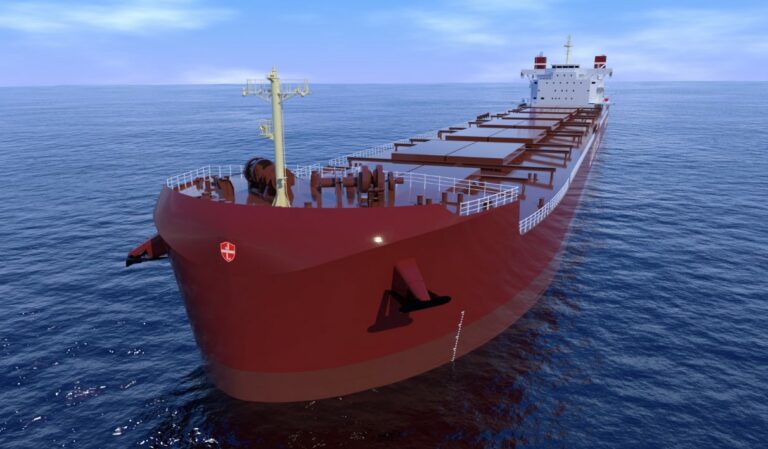 These vessels, with a purchase price of US$46 million each, will be constructed at Tsuneishi Group (Zhoushan) Shipbuilding Inc. in China, the Chinese base of Japan's Tsunesihi Shipbuilding. The order was signed through Marubeni Corporation, the company's guaranteed nominee.
The first vessel from the batch is set to be delivered by the second half of 2027 and the second by the first half of 2028, Diana said.
"Diana Shipping Inc. takes pride in its role as an industry leader, continually striving to enhance our fleet and operations for the benefit of our stakeholders and the environment. This investment underscores our dedication to sustainable shipping and positions us to meet the evolving demands of our industry while reducing our carbon footprint," Semiramis Paliou, Director and Chief Executive Officer of the company, said.
Diana Shipping's fleet currently comprises 41 dry bulk vessels, including 4 Newcastlemax, 10 Capesize, 5 Post-Panamax, 6 Kamsarmax, 7 Panamax, and 9 Ultramax vessels. Excluding the two new vessels not yet delivered, the company's combined carrying capacity stands at approximately 4.7 million dwt, with a weighted average age of 10.48 years.
Tsunesihi Shipbuilding aims to exclusively produce dual-fueled vessels by 2035, transitioning away from ships equipped with crude oil-based engines.
The shipbuilder has spearheaded the development of methanol-fueled vessels that utilize green methanol as fuel resulting in zero emissions.
The result has been the world's first Kamsarmax methanol dual-fueled bulk carrier. By incorporating methanol and advanced hull design, the Kamsarmax bulk carrier reduces CO2 emissions by 15%. Equipped with a large-capacity methanol fuel tank, the vessel ensures ample cruising distance via improved fuel efficiency, Tsuneishi says.
The Japanese shipbuilder said in June this year that it had secured orders for over 13 methanol-fuelled Kamsarmax vessels since January 2023.
The recent order by Diana Shipping reflects the maritime industry's increasing interest in methanol as a fuel source. While the container shipping sector has been at the forefront of adopting methanol as an alternative to traditional bunker fuels, this move by a prominent player in the bulker sector highlights a broader industry trend as various segments within maritime explore the advantages of methanol.
Some of the most recent players in the bulker sector looking into the solution include AL Group, Berge Bulk, PCL, and PacOcean which have turned to ABS to study conversion to methanol of their respective fleets.
Most recently, Japanese company Kambara Kisen ordered a methanol-powered bulk carrier and signed a time charter deal for the vessel with MOL's subsidiary MOL Drybulk.
The years 2022 and 2023 have proven to be exceptional for methanol, particularly in newbuilding projects. This surge in activity has propelled the global methanol-powered fleet to an impressive milestone, with over 200 ships, both currently in operation and those on order.