Dutch marine energy marks sector premises at OEEC 2018
Dutch Marine Energy Centre (DMEC), in collaboration with Dutch industry association EWA, will – for the third consecutive year – host the Marine Energy Pavilion at the Offshore Energy Exhibition & Conference (OEEC) 2018.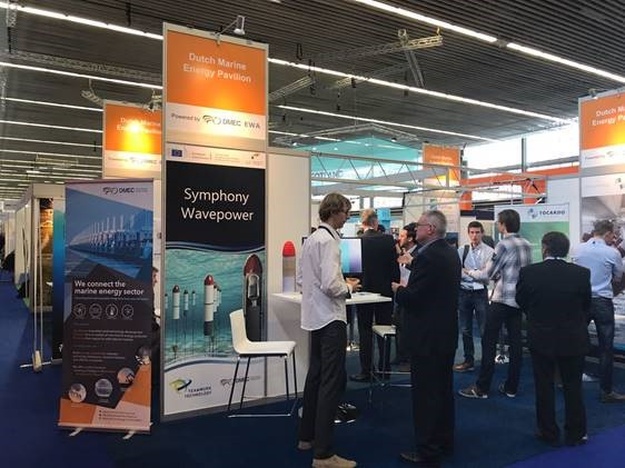 DMEC will co-host both the Marine Energy Pavilion and the Marine Energy Event on the second conference day, which will include key notes from leading marine energy industry players.
Supported by the Interreg North West Europe project FORESEA, the pavilion will showcase new developments across the European marine energy sector with a focus on the sector's path forward towards unlocking the full potential marine energy.
Justin den Hartog, Head of Operations DMEC, said: "The marine energy pavilion enables us to showcase recent international developments to the offshore sector. Collaboration between both sectors is essential to accelerate new large scale deployments of marine energy power stations and farms."
DMEC is a non-profit networking and consulting organisation that builds up strategic collaborations between technology developers, research institutes, and offshore companies in the Netherlands and internationally for the development of joint projects and business cases in the marine energy sector.
"We will unite leading international projects, innovations, concepts, and test facilities to the fore to raise awareness about marine energy in the maritime industries, and explore opportunities for further international and transdisciplinary collaboration," said DMEC.
Suitably – the OEEC fosters Europe's largest yearly offshore energy conference, where over 600 exhibitors showcase their products and services to the world's leading experts, decision makers, buyers, sellers, and policy makers in the oil & gas, energy, offshore and E&P industries.
Marine energy has been one of the three pillars of the OEEC since 2016, next to oil & gas, and offshore wind.
Therefore – with over 12,000 visitors from more than 90 countries expected at this year – marine energy sector players attending the OEEC will be in great position to raise awareness about the sector, enhance their company's visibility and profile across a wide range of markets.
Furthermore, the OEEC offers excellent networking opportunities, both with other marine energy industry representatives, and a large variety of exhibitors and visitors from around the world.
Finally, the Marine Energy Event on the second exhibition also serves as a showcase for the companies to present their technologies, projects or facilities to a targeted audience of leading marine energy professionals.
The registration for the OEEC 2018, to be held on (22), 23 and 24 October in Amsterdam, is open.