DP World, Maspion start construction of East Java terminal
Logistics provider DP World and Indonesian conglomerate Maspion Group have started construction of a new container terminal in Gresik, East Java.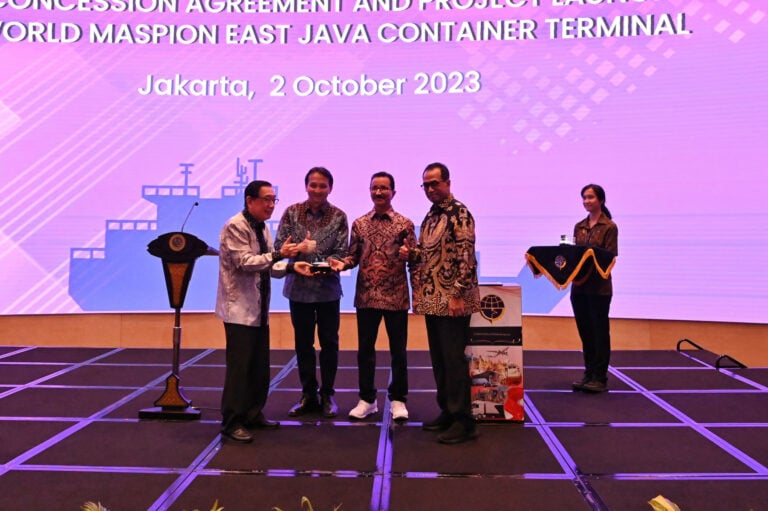 The groundbreaking ceremony for the facility was held on 2 October 2023, and was attended by Sultan Ahmed Bin Sulayem, Group Chairman and CEO, DP World and Alim Markus, Chairman and CEO of Maspion Group.
The joint venture (JV) company, DP World Maspion East Java, will operate a modern international container terminal with a design capacity of up to three million twenty-foot equivalent units (TEU).
As part of DP World's goal of delivering end-to-end supply chain solutions, the JV will also develop an integrated industrial and logistics park, adjacent to the container terminal, with an initial land area of 110 hectares and with scope for future expansion. 
"We see significant potential in Indonesia as a major hub for global trade, and we hope to unlock further growth in the region through meaningful partnerships and investments that bring opportunities through greater trade connectivity for local businesses and communities. Our partnership with Maspion Group to build new infrastructure in Gresik will strengthen East Java's position as a key trade and logistics gateway," Sultan Ahmed bin Sulayem stated.
"Maspion Group shares DP World's vision and is dedicated to contributing to sustainable economic development in Indonesia and harnessing investment opportunities in the interest of the country's fiscal growth. This project is a strong testament of how both companies – with the support of the government – can leverage our respective resources and capabilities, to jointly develop East Java's infrastructure in tandem with President Joko Widodo's vision to accelerate economic growth through his Indonesia Golden Generation 2045 strategy," Alim Markus noted.
DP World has recently revealed its plans to add approximately 3 million Twenty-Foot Equivalent Units (TEUs) of new container handling capacity by the end of the year.
The company currently manages approximately 9% of the world's handling capacity, putting it among the top five global port operators. The expansions will take its total gross capacity to 93.6 million TEUs.
Key expansions will be completed this year in Caucedo (Dominican Republic), including an additional 1.2million TEU, Yarimca (Türkiye) projected an additional 579,000 TEU, Sokhna (Egypt) adding 500,000 TEU, Jeddah (Saudi Arabia) with an additional 200,000 TEU, among other key markets.
This August, the logistics giant signed a concession agreement with the Deendayal Port Authority to develop, operate and maintain Tuna-Tekra terminal in India.