Dry bulk's overcapacity woes exacerbate road to demand recovery
Over ordering of bulk carriers over the past ten years has set the tone for the upcoming decade as overcapacity hinders shipowners' battle with low demand further constrained by the COVID-19 pandemic.
A total of 413 million DWT has flooded the market since the turn of the decade, bringing the world dry bulk fleet to 878.6m DWT at the start of 2020, an 88.8% increase from the start of 2010, BIMCO's data shows. During the same period, demand grew at less than half that rate at 40.3%.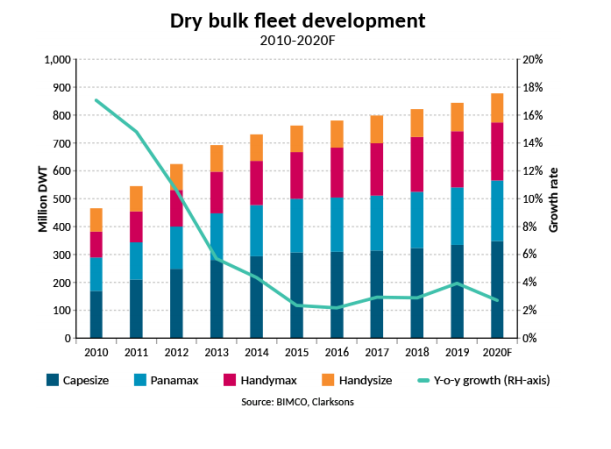 The Capesize and Handymax fleets experienced the highest growth, both more than doubling in size over the course of the decade, adding 178m DWT and 115.2 m DWT to their respective fleets (+104.6% and 123.8%). The Handysize fleet had the lowest growth during the decade, adding only 22.8m DWT to bring the fleet to 104.7m DWT (+27.8%).
2014 and 2017 were the only two years that decade in which the fleet grew slower than demand. Both 2014 and 2017 saw higher average earnings in most dry bulk sectors, BIMCO said.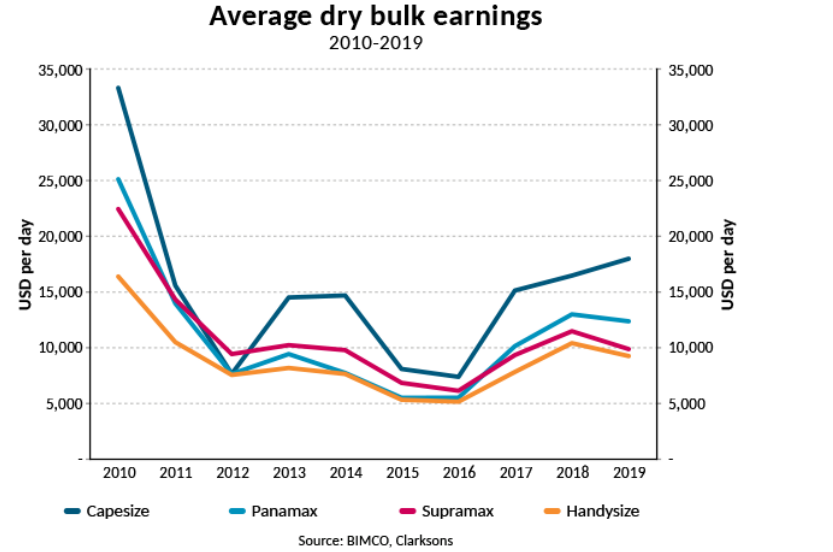 Dry bulk shipping's earnings peaked in 2010, while 2016 was one of the hardest years for bulker owners plagued by poor earnings. However, freight rates have come back from this low point over the past two years.
"While the overcapacity that dominated the dry bulk market in much of the 2010s continues into this new decade, the coronavirus will surely leave its mark on the 2020s. This puts demand under severe pressure and causes high uncertainty as to how the situation will develop, even as ordering activity and fleet growth slows," Peter Sand, BIMCO's Chief Shipping Analyst says.
"The lower freight rates in the past decade compared to the 2000s are testament to the lower demand growth that has dominated since the Great Financial Crisis and the oversupply of shipping capacity. The recession that will follow in the wake of the coronavirus and its containment measures, as well as how the world will emerge from it, will set the tone for this decade."
Related news
List of related news articles