DSIC and Jiangsu team up for LNGC cargo containment system project
China's Dalian Shipbuilding Industry Company (DSIC) and Jiangsu Yak have signed a contract for the cargo containment system construction project of ten 175,000 cubic meter LNG carriers (LNGCs).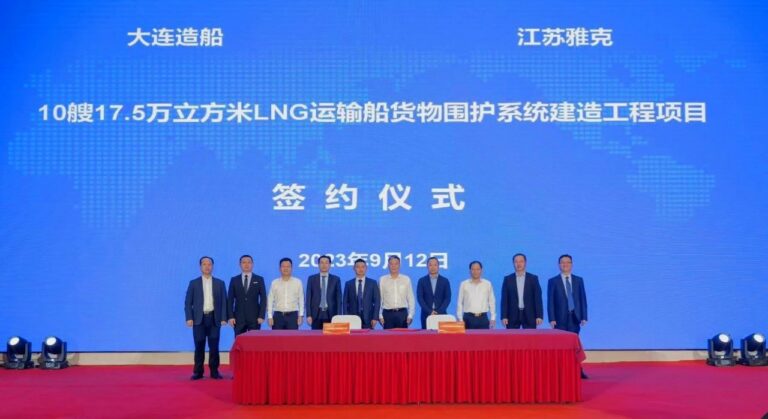 According to DSIC, the two parties will work together in construction, production management, safety management, quality management, logistics management and other aspects to complete the project.
This contract builds on the two parties' strategic cooperation and is an extension of their previously signed 'Framework agreement for the joint construction of large LNG carrier cargo containment systems."
Until now, DSIC said it has placed orders for 13 LNG carriers, noting that many large domestic shipbuilding companies have joined the ranks of building large LNGCs.
It claimed that Jiangsu has outstanding performance and rich experience in the field of LNGC cargo containment system construction and that the signing of this project has deepened the strategic cooperation and friendship between the parties, and has also locked in key resources for the construction of LNG carriers for DSIC in advance.
As for the future, DSIC said the two parties will adhere to the principle of "complementary advantages, mutual benefit, common development and win-win cooperation."
To remind, this month, DSIC placed an order to French LNG containment specialist GTT for the tank design of two new LNG carriers. The two vessels will each offer a capacity of 175,000 m3 and their tanks will be fitted with the Mark III Flex membrane containment system developed by GTT.
Additionally, Chinese powerhouses Cosco Shipping Energy and Sinopec Kantons Holdings, a subsidiary of China Petroleum & Chemical Corporation (Sinopec), signed an order for the construction of three LNG carriers with DSIC.