Eco Atlantic to hold public hearings ahead of Namibia drilling
Eco Atlantic Oil & Gas has scheduled dates for public meetings to discuss the environmental clearance certificate (ECC) application required for an exploration well drilling permit in its Osprey prospect on the Cooper block (PEL30) in the Walvis Oil Basin off Namibia.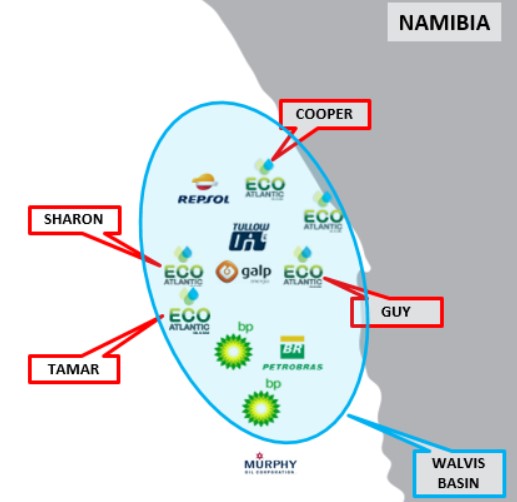 Eco said on Thursday that it published invitations in the Namibian press for public meetings which would take place on July 18 at the Hilton Hotel in Central Windhoek and on July 20 at the Protea Marriot Hotel in Walvis Bay.
During the course of these public hearing sessions, interested and affected parties will be invited to submit their comments, inputs, and objections for the proposed well operation on the Osprey Prospect.
This is the final stage in the drilling permit application process required for the beginning of the drilling program for which planning is expected to start later this year.
Colin Kinley, COO and director of Eco Atlantic, said: "As operator on the PEL30 license, Eco believes that working to the highest environmental and ethical standards is of the utmost importance. These public hearing meetings are essential to our progress and we look forward to presenting our exploration plans to the local community.
"Offshore oil exploration and production has been greatly supported by the Namibian Government, with the Mines and Energy Minister Tom Alweendo, recently highlighting, at the Africa E&P Summit held in London on May 23-24, the importance of a sustainable oil industry to attract international investment while also addressing the country's energy needs.
"Going into these public meetings, we are encouraged by the high-level activity within the Walvis Basin and the increased derisking of the region through detailed and competent exploration, we are confident that we can successfully proceed to next stage of delivering our first wildcat well on this Block together with our partners NAMCOR, Tullow and AziNam."
Eco filed for an EEC drilling permit on the Cooper Block in November 2017. It has since appointed Risk-Based Solutions CC (RBS) as an environmental consultant to undertake the environmental impact assessment and the environmental management plan to support Eco's ECC Application.
RBS has also been instructed to obtain all the other pre-drilling, drilling and post-drilling consents, endorsements, permits, authorizations, and certification for the drilling operation.
According to Eco, all of these prerequisites to obtaining the ECC are completed and the conclusions of these reports will be presented in a presentation followed by a Q&A session at the two public meeting sessions.
Osprey is an 882 million barrel (BOE) Aptian/Albian source fed oil target within a sand-filled channel fan system, in the Cretaceous sequence, within the mature oil window located in approximately 300 meters of water.
In recent company news, Eco Atlantic was granted a one-year extension for its Tamar block offshore Namibia.