EMEC crowned champion of renewables
The European Marine Energy Centre (EMEC), a world-leading test facility for marine energy, has scooped the 'Champion of Renewables' award at this year's Scottish Green Energy Awards.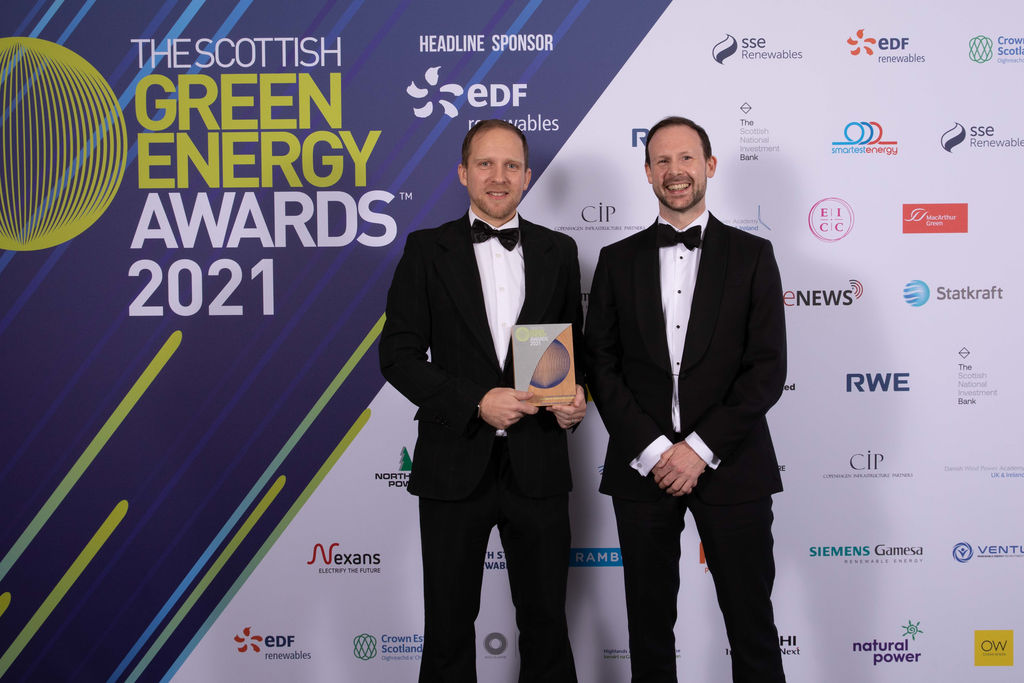 The Scottish Green Energy Awards, returned to Edinburgh on 2 December 2021, where more than 1,000 people saw winners in 13 categories receive trophies recognising their work in the clean energy sector, which supports 22,660 jobs.
EMEC, based in Orkney, scooped the 'Champion of Renewables' award for its world-first ocean energy test facility which continues to act as an advocate and exemplar for the marine renewables industry across the world.
Accepting the award, Matthew Finn, EMEC's commercial manager, said: "In a period where the world has slowed down, EMEC has been going up through the gears as has the need for combatting climate change.
"We have seen an incredibly busy year of demonstration activities across all our sites as well as working on projects across the UK, Europe and the USA. Our lobbying work, alongside the UK marine energy sector, has proven fruitful with the recent announcement of revenue support for tidal energy by the UK government.
"At times it has felt like the pioneering work that EMEC and our partners do is on the fringe, but we've kept pushing at it. The last year has seen increasing support from government and industry with our work in ocean energy, hydrogen and energy systems coming to the fore; EMEC and Orkney are well positioned to lead from the front in the drive to net zero and we'll keep striving to deliver this until our work is done".
The winners were selected by a panel of 14 judges from a shortlist of 43, according to Scottish Renewables, which organises the event.
Some of other companies and projects that received recognition at the awards include Gravitricity, which won the 'Best Innovation' award for its novel system, which uses excess electricity to winch weights to charge the system and then releases these when energy is required.
Sponsored by Highlands and Islands Enterprise, the 'Outstanding Contribution' award was bestowed to John Robertson, Crown Estate Scotland's Head of Energy & Infrastructure.
Morag Watson, director of policy at Scottish Renewables, said: "It's truly astounding to see the leaps of innovation and phenomenal talent of our industry on this evening's shortlist and it really does highlight why Scotland is a world leader in renewable energy.
"The next decade is going to need everyone and everything we've got as we work towards net-zero by 2045, and the skillset, hard work and commitment of those recognised tonight absolutely shows we have what it takes".