EU-funded project solving wind turbine blade erosion problem
The EU-funded project LEAPWind, which has been working on preventing blade erosion on offshore wind turbines, has put its solution(s) to test on an existing wind turbine in Portugal.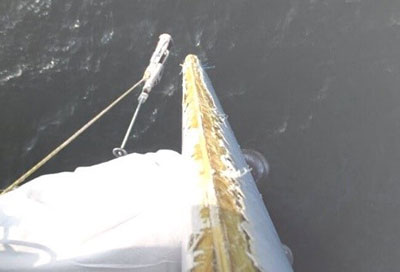 LEAPWind said it was using a new commercial leading-edge blade component with new thermoplastic materials and innovative manufacturing processes to prevent blade erosion already at the manufacturing stage. The more robust blades are meant to increase the energy productivity of turbines, as well as reduce high maintenance and repair costs.
With larger turbines and higher rotation speed, the risk of severe blade erosion is triggered, which is further intensified by harsh weather conditions at sea, according to LEAPWind, which added that this constituted a potential challenge to rapid market uptake of offshore wind.
"Leading edge erosion drastically reduces the productivity of wind turbines, costing European operators at least €150m annually. LEAPWind is developing novel technology to address this problem", said Tomas Flanagan, CEO of ÉireComposite.
The project is supported by the European Maritime and Fisheries Fund (EMFF) and implemented through a pan-European collaboration between the Irish company ÉireComposite, the Dutch company Suzlon, and the National University of Ireland Galway.
New blade design using thermoplastic material has also been under development in the U.S., where the National Renewable Energy Laboratory (NREL) recently manufactured a wind turbine blade made of thermoplastic resin, highlighting its recycling-friendly characteristic. Together with Arkema Inc, NREL has demonstrated the blade's feasibility and structural integrity.
According to NREL, the thermoplastic resin could also allow manufactures to build blades on site, alleviating a problem the industry faces with transportation as the blades become larger and longer.