Fire-Stricken Grande America Sinks off France
The fire-stricken Grande America sank in the afternoon hours of March 12 some 180 nautical miles west of the French coast, the Maritime Prefecture of Atlantic confirmed.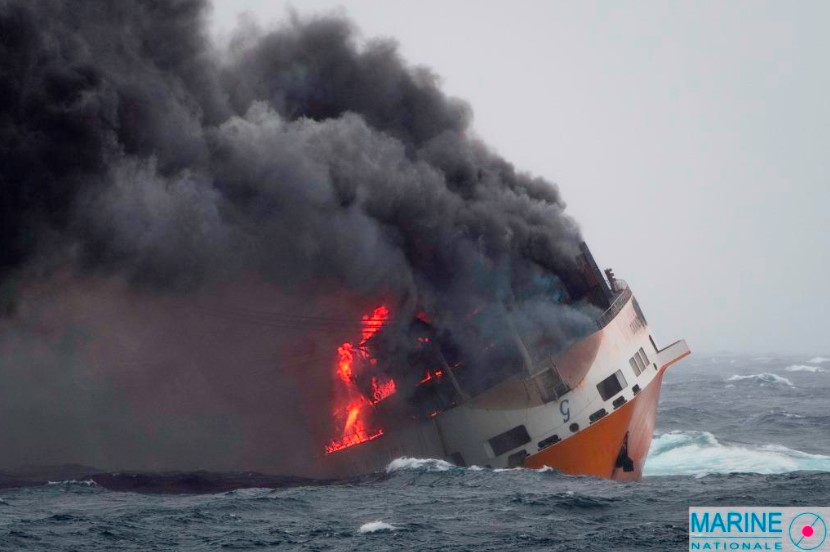 After it suffered a fire during the night of March 10, the 1997-built ship developed a worsening starboard list. The ro-ro container vessel subsequently capsized and sank in a water depth of around 4,600 meters.
[#GrandeAmerica] Mardi 12 mars à 15h26 le navire italien #GrandeAmerica a coulé par 4600 mètres de fond, à environ 180 nautiques (333km) à l'ouest des côtes françaises. @SGMer @MarineNationale pic.twitter.com/HareUcHJAa

— Premar Atlantique (@premaratlant) March 12, 2019
All 26 crewmembers and one passenger were safely evacuated onto Royal Navy's HMS Argyll on March 11.
The fire started in one of the containers loaded on the weather deck, spreading to other containers positioned close by, while the vessel was in the Bay of Biscay, sailing from Hamburg, Germany to Casablanca, Morocco.
Italian Grimaldi Group, the owner and operator of Grande America, earlier appointed the salvage company Ardent to provide assistance on the matter.
[#GrandeAmerica] La frégate multi-missions (FREMM) Aquitaine et le BSAA (Bâtiment de Soutien et d'assistance affrété) VN Sapeur sont toujours sur zone. Ils continuent d'assurer la sécurité et la surveillance de la navigation. @SGMer @MarineNationale pic.twitter.com/rz98mZlf8B

— Premar Atlantique (@premaratlant) March 12, 2019
World Maritime News Staff