Firms team up to develop first LNG-fueled shallow-draft pushboat design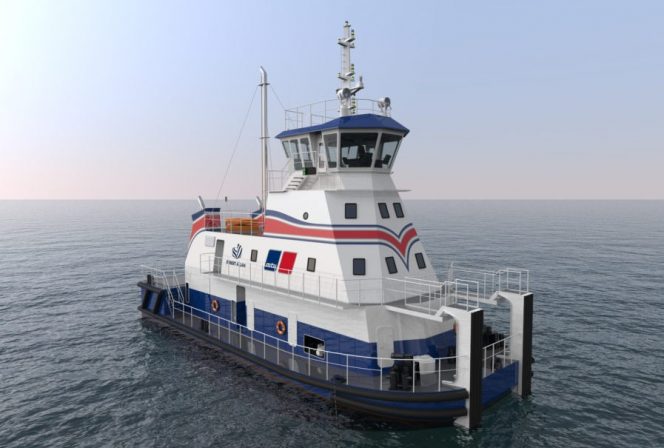 ---
Consulting naval architectural firm Robert Allan and engine manufacturer MTU Friedrichshafen have developed the first LNG-fueled shallow-draft pushboat design.
Robert Allan said that the vessel was based on the shallow-draft RApide 2800-Z2 pushboat that currently operates on the Amazon river system.
The vessel design template was modified to suit a complete LNG propulsion system with two 746 kW MTU 8V4000M55R-N Tier III gas safe main engines. The new LNG pushboat design is named RApide 2800-G.
Apart from the engines, MTU also acts as the system integrator, which means that MTU will also provide an LNG tank system and an integrated ship monitoring, LNG control, and safety systems.
While keeping the existing hull shape, the design was reconfigured to allow the installation of the LNG tank while still providing adequate space for other machinery and the crew.
The lower crew cabins, mess, and galley moved up a deck, and the deckhouse was enlarged. To ensure redundancy, there are two independent tank connection spaces attached to the LNG tank, one for each engine.
For continuous operation on a river system, the design accommodates a crew of 14, with master and chief engineer having single cabins and double cabins for the balance of the crew.
According to the company, natural gas is quickly becoming the "fuel of choice" for the maritime industry, not only for its potential in reducing environmentally hazardous gas emissions but also for its reduced cost when compared to other fossil fuel-based alternatives.
---
Related news
List of related news articles