Floating storage prototype takes official dip in Malta
The FLASC team of the University of Malta has officially launched the scaled offshore floating platform prototype with integrated energy storage at an event that gathered government officials and senior members of the various stakeholders involved in the project.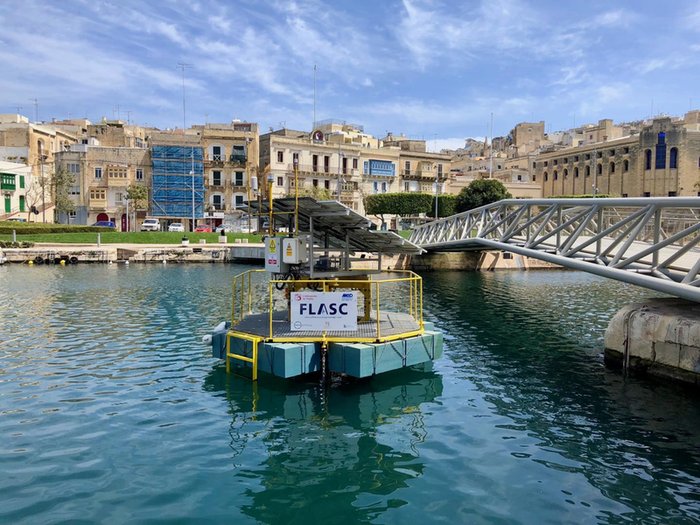 Project FLASC (Floating Liquid-piston Accumulator using Seawater under Compression) is a novel energy storage technology concept which features a dual-vessel compressed air energy storage system suitable for integration with offshore renewable energy sources.
The scale version of the FLASC prototype has already been deployed for trials in the Maltese Grand Harbour. There, it will be operated in order to monitor and validate the system's thermodynamic performance and to project future full-scale implementation methodologies.
Also, the current prototype serves as a proof-of-concept for a novel method for Tension Leg Platform (TLP) deployment that is faster and safer than existing methods, according to the University of Malta.
Present at the launch, held on May 18, 2018, were Malta's Parliamentary Secretary for Financial Services, Digital Economy and Innovation Silvio Schembri, and the Executive Chairman of the Malta Council for Science and Technology Jeffrey Pullicino Orlando, along with various stakeholders.

During the event, Schembri talked about the great opportunities the sea offers for innovation, referring to the European Union 'Blue Growth Strategy' that acknowledges the vast opportunities which European waters offer for growth in conjunction with new maritime technologies that are being developed in fields such as renewable energy, aquaculture and biotechnology.
This goes in line with FLASC technology application areas, as it can be used to store energy generated by offshore renewable technologies such as wave and tidal energy systems, large floating wind turbines, solar PV, along with applications for the liquefaction of natural gas, water injection in oil wells and water desalination.
"It is through innovation built on new skills that Malta can enhance work opportunities and become more competitive in the region," said Schembri.
The system lifetime is of the same order as that of contemporary wind turbines. The energy is not stored in batteries, yet it capable of providing a stepped energy output and ramp regulation, according to the FLASC team.
It is also said to be cost-competitive with Li-ion batteries, although without the reliance on hazardous chemicals or having the recycling costs associated with battery storage options.