FPSO hull arrives in Brazil for module integration
Brazilian oil and gas company Petrobras has informed that the hull of the FPSO P-71 has arrived from China at a Brazilian shipyard for integration with other modules.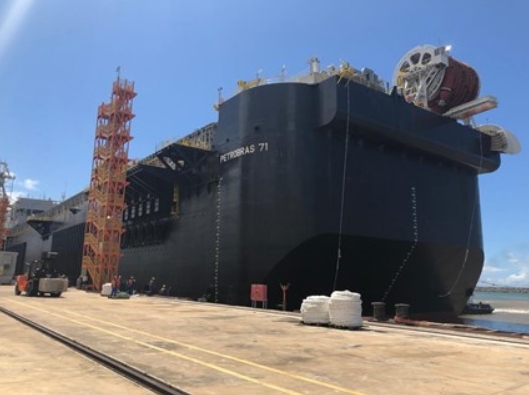 Petrobras said on Tuesday that the hull of the FPSO P-71 had arrived in Espírito Santo on March 16. The trip began on December 12, 2019, when the hull left the CIMC Raffles shipyard in China, heading for Brazil.
The hull will be integrated with other modules at Sembcorp Marine's Jurong Aracruz Shipyard (EJA).
In addition to the completion of the construction of nine modules, another 19 modules will also be integrated and commissioned to the hull. These activities are expected to be completed in the second half of 2021.
The P-71 is the sixth unit from a series designed to operate in the pre-salt layer, with a capacity of 150,000 barrels of oil per day.
Petrobras noted that, due to the coronavirus outbreak, the hull was transported without the crew on board. Regarding the tugboats that participated in the operation, there was no change in the crew during the entire trip.
It is also worth reminding that the Jurong Aracruz Shipyard in September 2019 completed another FPSO project for Petrobras. The P-68 FPSO left the shipyard last September to be deployed to the ultra-deepwater Berbigão and Sururu fields in Brazil's Santos Basin.
Petrobras awarded a contract for the P-68 and P-71 FPSOs to the Jurong Aracruz Shipyard in August 2012. The contract was for the construction of a total of 8 modules and module integration works for the two FPSOs.