Fugro and Ocean Infinity complete work at 3.6 GW floating wind project in Scotland
A geotechnical survey campaign has been completed at the Ossian floating offshore wind farm site in Scotland.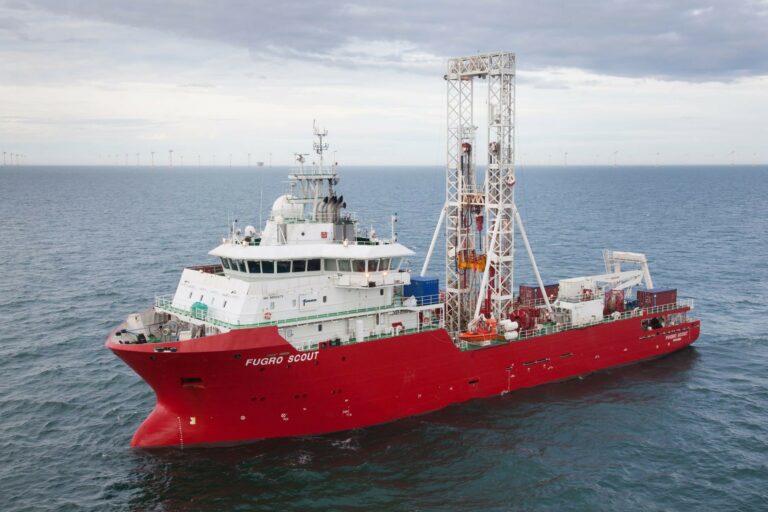 Set to be located across 858 square kilometers of seabed off the east coast of Scotland, the project is a joint venture between SSE Renewables, Marubeni, and Copenhagen Infrastructure Partners (CIP).
The site's seabed is around 72 meters below sea level and is located 84 kilometers off the east coast of Scotland.
The geotechnical surveys, which have been ongoing since the spring, were carried out by Fugro and Ocean Infinity.
The surveys delivered information essential to Ossian's installation design and understanding of the seabed environment, the project company said.
The Fugro Scout, a purpose-built geotechnical vessel, the Stril Explorer, and the Normand Superior were all deployed to carry out the geotechnical operations.
Fugro focused on downhole geotechnical sampling and in situ cone penetration testing, while Ocean Infinity concentrated on the seabed scope, including shallow vibro-cores and deep push seabed cone penetration tests, some of which were carried out remotely in an industry first, Ossian said.
According to the press release, Ossian has become the first ScotWind floating offshore wind farm to complete essential geotechnical surveys.
"The scale of Ossian is globally significant and the information gathered from these surveys brings us another step closer to making it a reality. We are the first large scale floating offshore wind farm to reach this milestone and are pleased with the progress that's been made," said David Willson, Senior Project Manager.
"Along with other ScotWind developers, Ossian also recently completed a two-year digital aerial survey of 75,000 birds across the North Sea. The pace at which the project has begun will ensure Ossian is able to advance as quickly as possible and contribute to the journey to net zero."
The consortium won the development rights for the Scottish site last year. The installed capacity of the floating wind farm was initially said to be 2.6 GW. At the end of 2022, the developers announced that they had identified an increase in the potential overall project capacity of 1 GW.
If the project is built up to a capacity of 3.6 GW, it would be capable of powering almost 6 million Scottish homes and offsetting around 7.5 million tonnes of carbon emissions each year, according to information about the project SSE shared earlier.