German professor takes 'the power of the sea' accolade
An industry award established by Ocean Energy Europe – Vi Maris – has been bestowed to Jochen Weilepp of the University of Applied Sciences Biberach for his efforts to advance the development of ocean energy sector.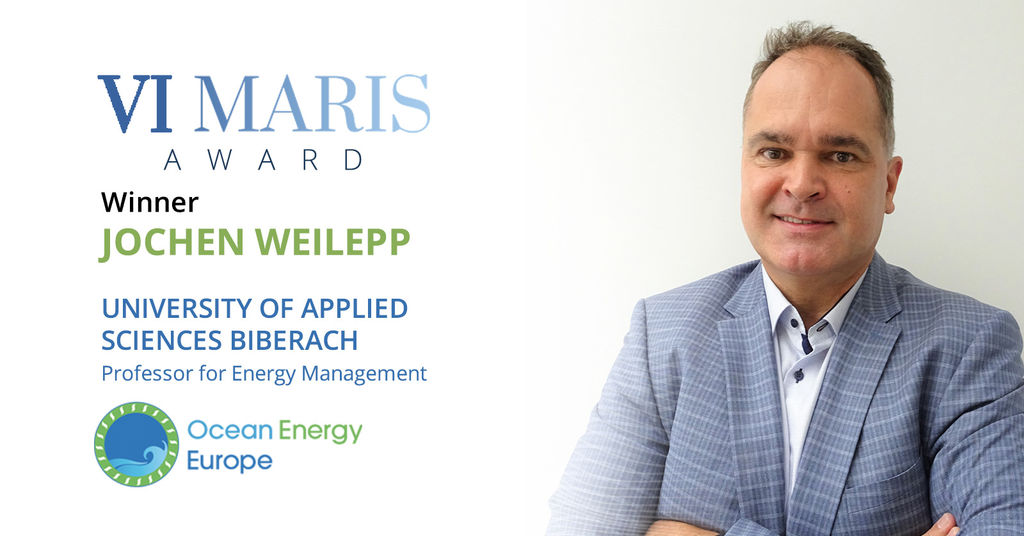 Vi Maris award, meaning 'the power of the sea', recognises the outstanding contribution of an individual to the ocean energy sector.
Jochen Weilepp was nominated for his work as a long-time supporter and champion of ocean energy. He is a professor for Energy Management at the University of Applied Sciences in Biberach, Germany, and holds a PhD in Physics and an MBA (INSEAD).
In addition, Weilepp has held several advisory and executive positions in the sector. He was Ocean Energy Europe's co-president from 2019 – 2021 and a board member from 2010 – 2019. He has also been the non-executive director at Sustainable Marine and was previously a member of the advisory board at Schottel Hydro.
Weilepp has been closely involved in a number of ocean energy 'firsts' across both wave and tidal industries. He delivered the technology for the Mutriku Power Plant – the world's first commercial breakwater wave energy plant, which recently celebrated a decade of continuous operation.
More recently he has worked with Schottel Hydro and Sustainable Marine, who are deploying the world's first floating tidal array – the 9MW Pempa'q project in Canada. This project is a multi-device array to be deployed in the Bay of Fundy, home to the world's highest tides.
Weilepp said: "Working in the ocean energy sector is the longest rollercoaster ride you can imagine. For me, receiving the Vi Maris award is a great honour. As a manager, however, you can only deliver if the team does.
"Hence, I would like to dedicate this award to the teams I worked with at Wavegen, at Voith Hydro Ocean Current Technologies and at Sustainable Marine Energy/Schottel Hydro. Together, they have moved the sector a great step forward".
Rémi Gruet, Ocean Energy Europe's CEO, added: "Warm congratulations to Jochen on winning this year's Vi Maris award. Our sector is lucky to boast many committed and passionate individuals – and Jochen is no exception. He has been a key player in getting the tidal sector to where it is today, and his time as a member of OEE's board and OEE co-president was hugely valuable for both the association and the ocean energy industry as a whole".
A shortlist of five nominees was considered by a panel of Ocean Energy Europe board members, who voted by secret ballot for the winner. The other nominees recognised for their valuable work in the sector were Olatz Ajuria (Ente Vasco de la Energia), Patricia Comiskey (formerly SEAI), and Martin Edlund (Minesto).