Germany's first floating LNG terminal ready to welcome first FSRU in mid-December
Construction of Germany's first floating liquefied natural gas (FLNG) terminal at the North Sea port of Wilhelmshaven has been completed as the country zeroes in on securing supplies and cutting dependence on Russian gas.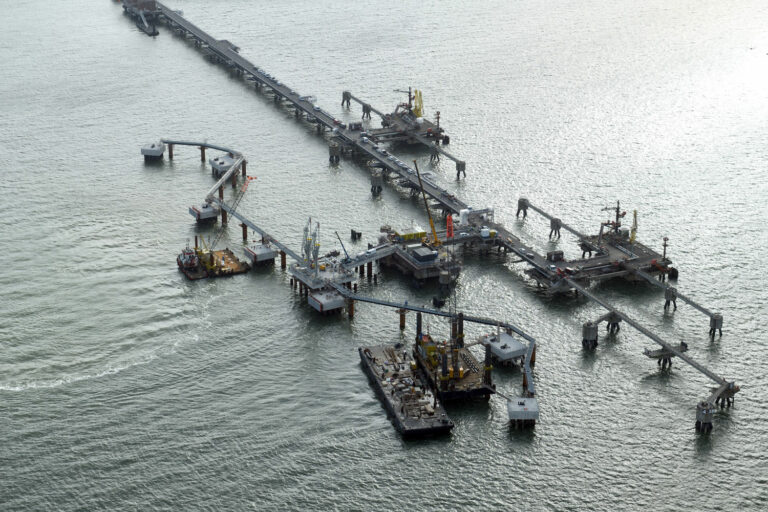 The port infrastructure for the first LNG jetty was completed on 15 November after mere 194 days, Niedersachsen Ports (NPorts) confirmed in its statement. German energy major Uniper began construction of the terminal on 4 July 2022.
Adding to the existing cargo handling facility, a docking platform and dolphins with rubbing paunches as well as mooring dolphins were constructed for the berth.
With the LNG jetty in place, the first floating storage and regasification unit (FSRU) can be docked one month from now, in mid-December, ensuring the energy supply for Germany.
Olaf Lies, Niedersachsen's Minister for Economic Affairs, Transport, Construction, and Digitisation said in a statement that an early decision to select Wilhelmshaven as the hub for LNG imports proved to be spot-on.
Minister for Environment and Energy, Christian Meyer, added that the focus should be on switching to climate-neutral green gases as quickly as possible and making Wilhelmshaven the hub for green hydrogen and for the import of renewable energies from the North Sea.
Based on the Eikon Refinitiv ship tracking data, the designated Wilhelmshaven FSRU, the 2018-built Hoegh Esperanza, is still located at a shipyard in Brest, France, Reuters reported.
To remind, in February 2022, Germany revealed plans to build two LNG terminals in Brunsbüttel and Wilhelmshaven in an effort to reduce its dependence on Russian gas.
Following this, in April, Germany's government revealed the urgent decision to invest about €2.5 billion in four floating LNG terminals.
Moreover, the federal government will charter a total of five FSRUs.