Hapag-Lloyd slashes its emissions by 50 percent, schedules boxship LNG conversion for Q4
German container shipping major Hapag-Lloyd has cut its CO2 emissions per TEU kilometre by 50 percent when compared to the reference year of 2008, the company said.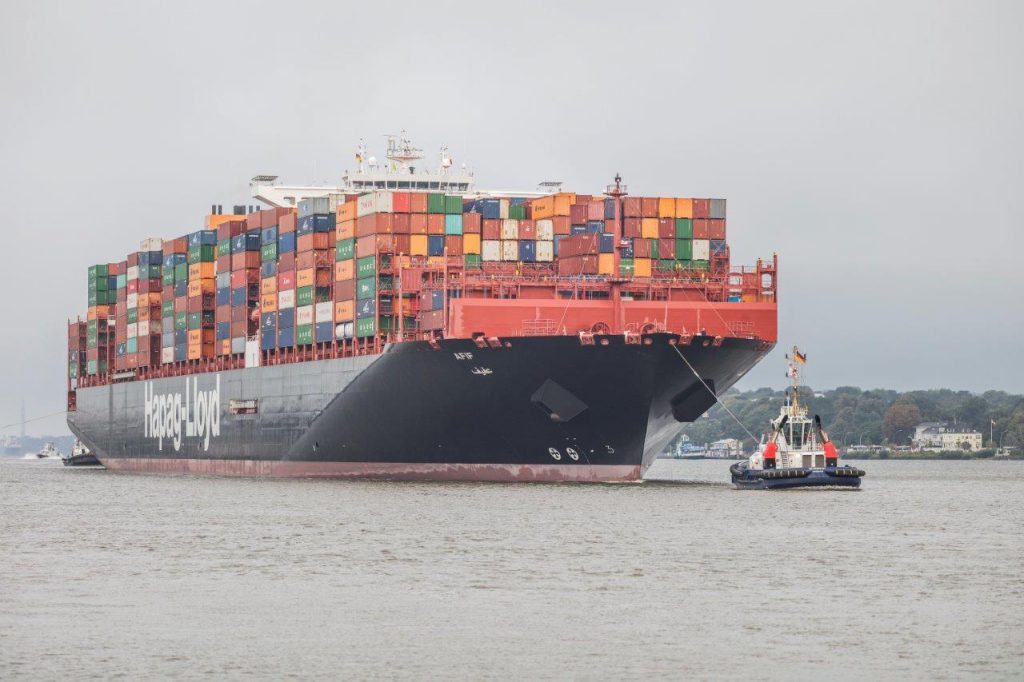 The goal was achieved through economies of scale as the company introduced bigger and more efficient ships with improved water resistance on its routes.
The shipping industry has been under considerable pressure to reduce its carbon footprint, with regulatory authorities charting the way forward with ever stricter regulations.
January 2020 marked the beginning of an unprecedented transition of the shipping industry into a greener future with a regulation mandating the level of sulphur content in marine fuels is limited to 0.50 per cent.
In line with the international commitment to cut sulphur emissions and halve global CO2 emissions by 2050, Hapag-Lloyd has embarked on numerous projects including the exploration of a propulsion system based on liquified natural gas (LNG) as well as retrofitting its ships with onshore power connections.
The company plans to start converting a large container ship Sajir to operate using LNG propulsion system in the fourth quarter of 2020.
The Sajir is one of the 17 vessels in Hapag-Lloyd's fleet that were originally designed to be LNG-ready.
The contract for the retrofitting was signed with Hudong HONDHOA Shipbuilding and the conversion is scheduled to take place at the Shanghai-based shipyard Huarun Dadong Dockyard.
MAN Energy Solutions has been tasked with conversion of the vessel's HFO-burning MAN B&W 9S90ME-C engine to a dual-fuel MAN B&W ME-GI (-Gas Injection).
The container shipping heavyweight is also looking into alternative fuel solutions, including biofuel based on used cooking oil.
At the moment, approximately 95 per cent of Hapag-Lloyd's vessels have been operating using low-sulphur fuel oils, which emit over 70 per cent less sulphur oxides than the heavy fuel oil previously in use, the company said.
Scrubber retrofitting has also been on the table, and ten ships of the German liner are set to be retrofitted with scrubbers in 2020.
"Sustainability is more than just climate protection, as it also comprises ecological, economic, social and qualitative concerns in equal measure. In 2019, we succeeded in making a lot of progress in all four dimensions. For example, we furthered reduced our specific CO2 emissions, strengthened our social commitment and made huge investments in the quality of our service," says CEO Rolf Habben Jansen.
"This year, as well – despite the adverse effects of the COVID-19 crisis – we will continue to focus on additional improvements, including technological and digital innovations as well as further reductions in the emissions of our fleet."
The company said that over the past year it has converted one ship in its fleet for onshore power, and that two more are being converted as well.
At the moment, 11 of its 41 ships registered under the German flag and eight out of 127 chartered ships can connect to onshore power and are used on routes calling at Californian ports.
In Californian ports, 80 per cent of electricity must be powered by onshore power starting in 2020, while the threshold is likely to rise to 100 per cent come 2021.
A similar trend is picking up at the Chinese ports as well for ships with relevant infrastructure.
Hapag-Lloyd is also testing other options to make the power supply to docked ships more environmentally friendly, including PowerPacs.
Namely, these are containers that hold gas-powered generators and a tank of LNG that supply the ship with electricity while berthed.
The company tested the technology in 2018 in Hamburg and again in October 2019, and will now evaluate its commercial and operational effectiveness.
Hapag-Lloyd currently employs over 13,000 people in 59 countries and has a fleet of 239 container ships transporting an annual total of around 12 million TEU.