Harvey Gulf expanding to Mexico, Trinidad, and Guyana
Harvey Gulf International Marine, a U.S. Gulf of Mexico focused offshore support vessel owner is expanding its scope and targeting new markets in Mexico, Guyana, and Trinidad.
The company on Wednesday said it was "going global with the reflagging of both Offshore Supply and Fast Supply Vessels to facilitate work in Mexico."
Harvey will open additional offices in Mexico through its affiliate, Harvey Gulf International Marine de Mexico S.A.P.I. de C.V.  Harvey will also establish itself in Trinidad and Guyana by opening offices and redeploying shore base personnel and vessels to those areas.
The offshore fleet owner will certify vessels for operation under Mexican flags "to ensure its customers can receive Harvey service levels for their expanding Mexico operations."
In addition to Harvey Gulf de Mexico's office in Mexico City, the company will open new operations shore bases in Ciudad del Carmen and Dos Bocas to support vessels repositioned to Mexico.
Harvey CEO Shane Guidry said: "As a company, we've decided it's time to make a global commitment to our customers by expanding operations in Mexico, Trinidad, and Guyana immediately."
Merger talks
Guidry said the company was also discussing several potential mergers and acquisitions "that will give our company a larger global footprint to install our safety and operations culture, which has been unmatched for five years."
To remind, the company has recently urged competitor GulfMark to accept its merger offer, deeming the offer superior compared to the deal agreed last month between Tidewater and GulfMark.
Commenting further on geographical expansion, the CEO said: "Our clients have been calling on us to have our vessels globally on the ready, so they can rely on having the same safety and operational excellence they became accustomed to these last five years.
Being private, the market most likely hasn't realized that during these last five years Harvey has operated in the United States for more than 100 customers, in Mexico for Baker Hughes, Nalco, Halliburton and Schlumberger, in Israel for Noble Energy, in Kenya and Mozambique Africa for Anadarko, in Trinidad and Suriname for Shell, in Malaysia for Petronas, and the North Slope of Alaska for Shell, 2,600 miles from the nearest port and usually in 30-40 ft. seas for days, all without a recordable incident."
According to VesselsValue, Harvey Gulf owns a fleet of 61 offshore vessels.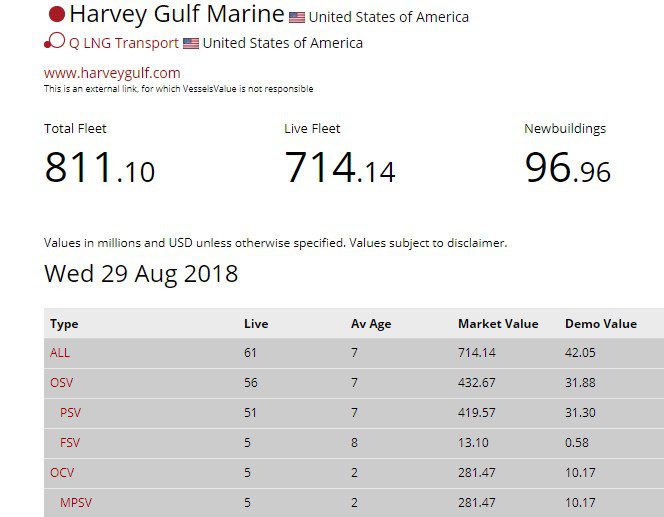 Related news
List of related news articles