Harvey Gulf urges GulfMark to accept 'superior' offer
U.S. offshore vessel owner Harvey Gulf is urging GulfMark to accept its merger offer, deeming the offer superior compared to the deal agreed last month between Tidewater and GulfMark.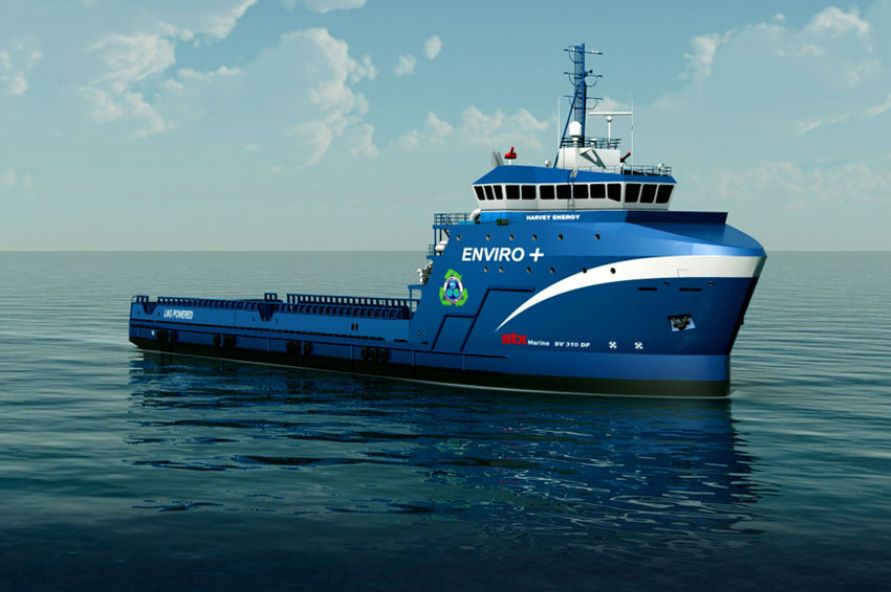 As earlier reported, GulfMark on Monday said it had received a non-binding, unsolicited offer from Harvey Gulf to combine the companies through a merger in which GulfMark would acquire Harvey Gulf, with the combined company remaining publicly listed.
GulfMark said it would review the offer, adding it still remained committed to the previously announced Tidewater deal, and urging shareholders not to take action on the Harvey Gulf proposal "at this time."
In a separate statement released later on Monday, Harvey Gulf said it offered to combine the companies through a reverse takeover, whereby GulfMark common stockholders would own 41.2% and Harvey stockholders would own 58.8% of the combined company.
Harvey Gulf's proposal entails its CEO Shane J. Guidry would become the Chairman and Chief Executive Officer of the combined company.
"Superior offer, superior fleet"
Harvey Gulf said: "Harvey's proposal, which represents total value of $41.64 per share of GulfMark common stock, delivers a significantly greater value to GulfMark stockholders than does the proposed acquisition of GulfMark by Tidewater
"Harvey believes that a combined Harvey and GulfMark would be a superior company to Tidewater following its acquisition of GulfMark due to its robust long-term prospects, in particular, with respect to geographic diversification, superior fleet, and significant positive cash flow Harvey urges GulfMark to engage in a negotiated transaction.
"Harvey believes that a combined Harvey and GulfMark would be a superior company to Tidewater"
Providing rationale for the proposal Harvey Gulf said the merger would combine "one of the premier operators in the North Sea, Trinidad, French Guiana, Southeast Asia and South America with the premier operator in the Gulf of Mexico."
The offeror said the merger would create the world's fifth largest offshore support vessel fleet, "which would enable expanded market presence, allow for better service of customer needs and significantly increase the combined company's earnings potential."
"Harvey believes, based on its strong operational and financial history, that GulfMark stockholders will be much better positioned for the future if GulfMark combines with Harvey rather than Tidewater," Harvey Gulf said.
As previously announced on July 16, 2018, GulfMark entered into a definitive agreement with Tidewater to combine the two companies. Under the terms of the all-stock agreement, GulfMark stockholders will receive 1.100 shares of Tidewater common stock for each share of GulfMark common stock they hold.
The GulfMark-Tidewater merger would create the world largest OSV fleet owner, with 273 vessels in Total.
Using VesselsValue's chart tool we've made a chart to see where the players involved in the mergers talks stand when it comes to the global OSV fleet size. See below:
Take note, since the VesselsValue's chart is a third party tool, Offshore Energy Today cannot vouch for the accuracy of the data in the chart.
Update: August 8, 15:57 CET
In a statement sent to Offshore Energy Today, VesselsValue director Matthew Freeman gave his view of the two competing merger offers.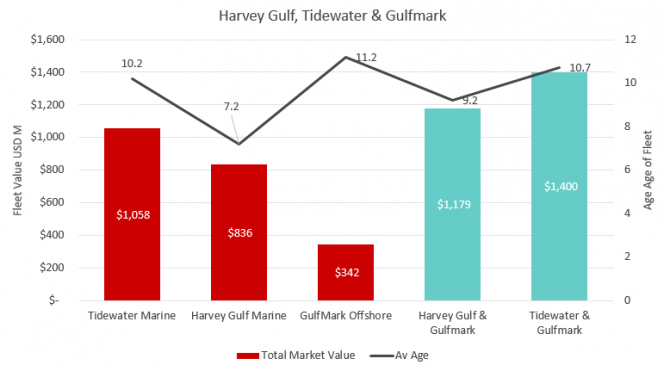 Freeman said: "With a combined fleet size of 274 vessels, a merger between GulfMark & Tidewater would lead to one of the largest OSV fleets in terms of overall size with an average age 10.7 years old.
"If a merger would materialise between Harvey Gulf and GulfMark, it would mean a smaller overall fleet size of 129 vessels but with an average age of 9.2 years old.
"The Harvey Gulf fleet consists of 57 OSV's and 6 OCV's (a sector that GulfMark does not currently have a presence in) so the main questions here are size over speciality and what the future holds."
Offshore Energy Today Staff