Hempel opens new production facility in China
Copenhagen-based coating supplier Hempel has opened a new production facility in Zhangjiagang, China as a way of responding to the growing demand for coating solutions.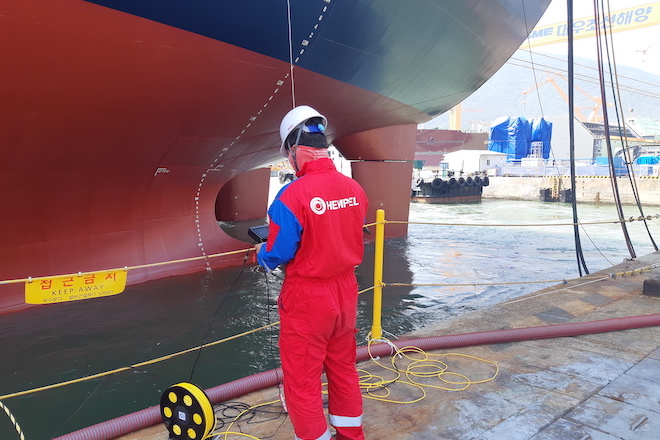 The inauguration ceremony for the new production facility comes three years after the announcement of expansion plans to meet the growing demand from the marine, energy, and infrastructure sectors.
"Today is truly a day to celebrate. Our teams, both here in Zhangjiagang and in Yantai, have put in a massive effort to make this happen, and I am very proud of the results," Katarina Lindstroem, Hempel's Chief Operating Officer and Executive Vice President, said.
"Getting Zhangjiagang online is a major step towards better serving our customers in the Marine, Energy and Infrastructure sectors. This new location will significantly improve 'time to market' of both products and services – especially at the shipyards along the Yangtze."
Some of the key facts and figures about Hempel's new production facility in Zhangjiagang include 150 new employees, a land size of 136,097 square meters, and a building footprint of 37,761 square meters.
The Zhangjiagang factory is poised for gradual capacity expansion, with plans to reach an annual production capacity of approximately 100 million liters by 2025, Hempel said.
The company's new production facility has a strategic location as it is close to the majority of the world's marine newbuild business located in China, with over 50% of Chinese shipyards situated within a 200km radius of Zhangjiagang.
What is more, there is a growing demand for antifouling coatings. Namely, coatings, particularly silicone-based ones like Hempel's Hempaguard, are in high demand as shipowners and charterers worldwide seek fuel-efficiency solutions.
In the pursuit of decarbonizing the shipping industry and optimizing vessel efficiency, coatings have a growing role. Hull coatings, designed to diminish friction between a ship's hull and the water, minimize drag and resistance, ultimately leading to substantial fuel savings and reduced greenhouse gas emissions.
By keeping the hull clean and smooth, coatings help ships glide through the water with greater ease, a critical factor in achieving fuel efficiency and meeting environmental targets.