HMM pursues onboard carbon capture solutions with Panasia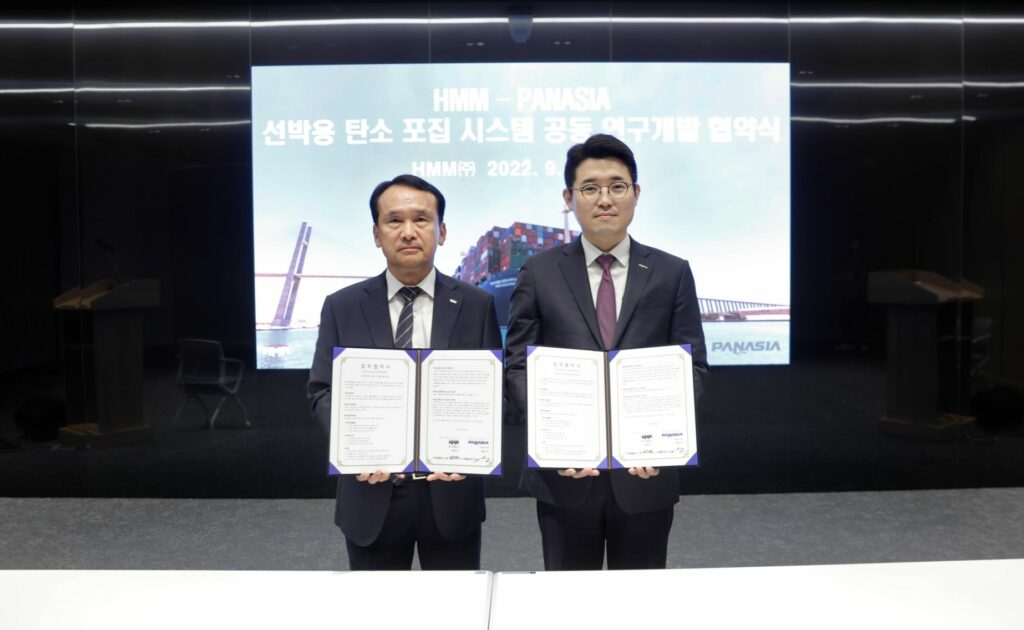 South Korean shipping major HMM has signed a Memorandum of Understanding (MoU) with energy system expert Panasia to collaborate on onboard carbon capture system for vessel application.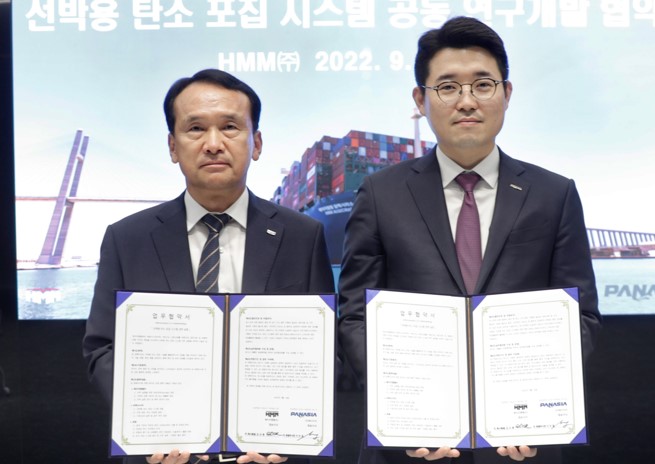 The duo plans to carry out a feasibility study, economic analysis, and risk assessment of capturing CO2 from greenhouse gas emissions generated during vessel operation. The handling process of captured CO2 will also be one of the vital areas of the study. Based on research findings, HMM wants to install the carbon capture system and perform an operational test on its vessels.
"Carbon capture technologies are one of the alternatives in support of the net-zero ambitions of the global community," Kim Gyou-bong, HMM Chief Maritime Officer, said.
"We will continue to participate in collaborative partnerships to develop onboard carbon capture solutions on our pathway to carbon neutrality."
Panasia has already been working with Samsung Heavy Industries (SHI) on an optimized wet absorption type carbon dioxide capture device for ships. The duo won approval in principle for their solution from the Korean Register back in January this year after passing a HAZID analysis. The system is a result of three years of joint research.
Onboard carbon capture systems are getting under the spotlight as they are believed to have a major potential in reducing CO2 emissions. Their attractiveness hinges on the fact that shipowners would be able to cut their CO2 footprint in a relatively shorter time frame when compared to switching to alternative fuels.
Specifically, fuels like renewable LNG, ammonia, and hydrogen will require heavy investment to become more widely available, with some estimates indicating that between $30 and $90 billion per year would be needed by 2050 for the onshore fuel supply chains. Furthermore, a great focus needs to be put on studying their respective well-to-wake emissions in order to confirm their sustainability.
HMM has set an objective of reaching net-zero carbon emissions across its entire fleet by 2050. As part of this strategy, the shipping company is looking into various solutions including biofuels, LNG, hydrogen, and green ammonia.
In December 2021, HMM's containership embarked on a voyage having bunkered sustainable marine bio-heavy oil as part of a project aimed at trialing biofuels as an alternative fuel.
The test was carried out in collaboration with Korean Register, the Korea Bio Energy Association and shipbuilders Hyundai Heavy Industries, and the Korea Shipbuilding & Offshore Engineering.