Höegh Autoliners orders four more ammonia-ready Aurora class vessels
Norwegian RoRo shipping company Höegh Autoliners has exercised the option to build an additional four new multi-fuel and net zero carbon ready Aurora class vessels.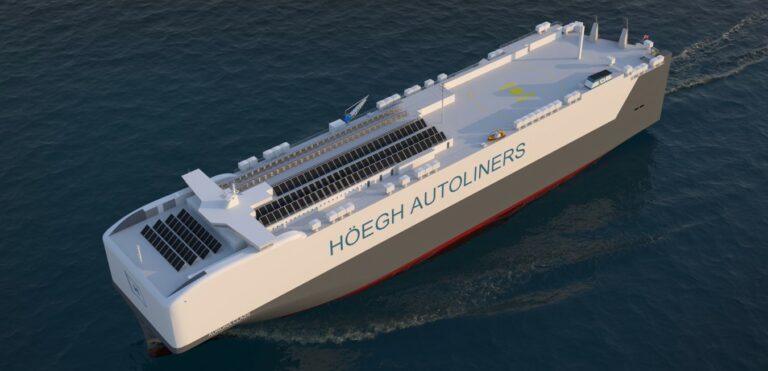 The shipping company will have the option to convert one or more of these vessels to ammonia propulsion as soon as the technology is available. This brings the number of total vessels under the newbuilding program to twelve vessels, all of which will be built by China Merchants Heavy Industry (Jiangsu) Co. (CMHI).
The construction of the first unit from the series was launched with a steel-cutting ceremony at CMHI in March 2023.
Last month, the shipowner said in an update that the construction of Aurora-class vessels was progressing ahead of schedule.
As a result, the first Aurora-class vessel is scheduled for delivery as early as July 2024, while the second Aurora vessel is also anticipated to be delivered ahead of schedule, with an expected arrival in September next year.
Designed to accommodate up to 9,100 cars, the Aurora class vessels will have the ability to operate on zero-carbon ammonia, making them the first of their kind in the PCTC segment.
The vessels will have DNV's ammonia and methanol-ready notation, with the main engine provided by MAN and the bridge system supplied by Kongsberg.
Their multi-fuel engine can run on marine gas oil (MGO) and liquefied natural gas (LNG), and with modifications, can transition to use ammonia or methanol.
Höegh Autoliners has the option to build another four vessels (vessels 13-16) as well as slot reservations for additional four vessels (vessels 17-20).
"The Aurora-class vessels have attracted significant interest from credit providers, and the company will finance the newbuilds by a combination of equity (cash) from own operation and debt. Höegh Autoliners is actively exploring various financing alternatives and anticipates having committed financing in place before year end," the shipowner said announcing the deal.
Höegh Autoliners has already entered into a deal with green energy provider North Ammonia for the supply, distribution, delivery, and consumption of green ammonia intended for its Aurora-class ships.