Hyundai Glovis gears up for $1.85 billion investment in world's largest dual-fuel car carriers
Hyundai Glovis, the logistics unit of South Korean auto giant Hyundai Motor Group, is allocating $1.85 billion for the acquisition of 12 LNG dual-fuel car carriers.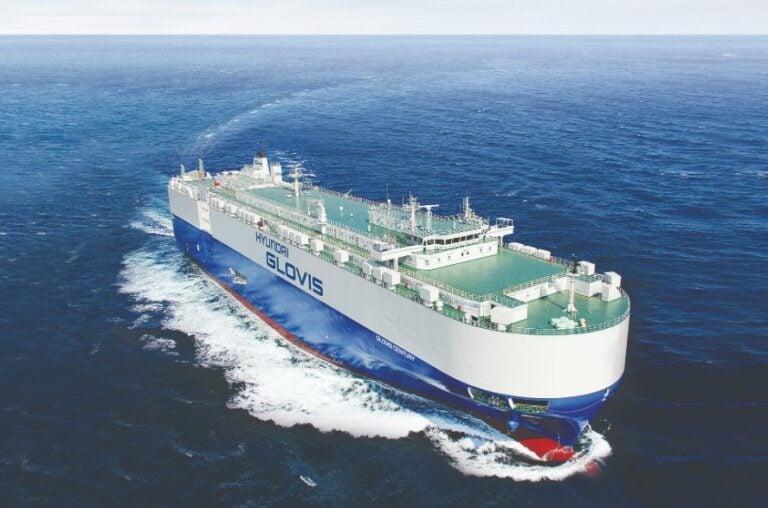 The decision on the planned investment, approved during a board meeting held on October 26, 2023, represents a strategic move to bolster the company's position in the shipping industry.
The ships will feature 10,800 car equivalent units (CEUs), becoming the world's largest pure car/truck carriers, Hyundai Glovis said in a regulatory filing.
The largest car carrier currently in service can accommodate a staggering 8,500 vehicles.
The investment aims at securing a fleet of LNG dual-fuel PCTCs to stabilize mid- to long-term fleet operations and respond to strengthened international environmental regulations.
The delivery is expected to be completed by the end of September 2027 allowing for an operating service of 20 years for the ships.
Details of the shipbuilder have not been disclosed, however, Chinese shipyards are expected to secure the construction contracts.
In recent years, the automotive industry has grappled with a shortage of new car carrier orders, leading to a bottleneck in specialized car transport capacity.
The surge in car demand following the pandemic has further exacerbated this challenge, forcing many automakers and logistics providers to turn to container shipments as an alternative.
Car carrier newbuild ordering has increased significantly in 2021 and 2022 on record markets and the resumption of owners' fleet renewal programs, including efforts to support manufacturers to become 'green through the supply chain'.
A total of 48 vessels of 375,000 ceu were ordered in Jan-Oct 2022, already the firmest year since 2007. By the start of November, the orderbook stood at a more than 10-year high of 86 vessels of 641,000 ceu, data from Clarksons Shipbrokers shows.