Hyundai Heavy Cleared to Offer LNG-Fueled VLCC with Rotor Sails
A Hyundai Heavy Industries (HHI) design for a very large crude carrier (VLCC) that would use a range of systems aimed at reducing its emissions has received green light from classification society Lloyd's Register (LR).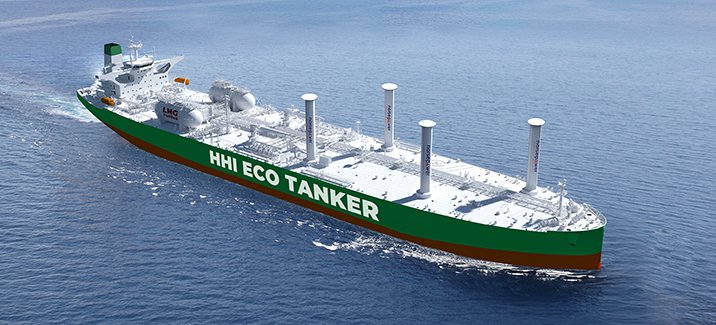 In a ceremony at the Nor-Shipping 2019 fair in Oslo, Norway, LR presented HHI with an approval in principle (AiP) for an eco tanker VLCC that would run on LNG fuel, use rotor sails to reduce consumption, and feature a volatile organic compounds (VOC) system to increase efficiency.
The AiP was the result of a joint development project collaboration between HHI, LR and Norsepower, the rotor sail builder.
The impact of the installation of Norsepower's rotor sail solution, such as structural reinforcement and visibility calculation, was reviewed using computational-fluid dynamics during the JDP and it was confirmed that it has the potential of providing 5-7% fuel savings, dependent on operating routes.
LR said the AiP demonstrated the potential for reducing emissions in ship designs, by combining VOC recovery and LNG in a dual-fuel system with the addition of rotor sails, to help the shipping industry address the challenge of reducing greenhouse gas (GHG) emissions by 2050.
"We are doing our best to design advanced ships that will benefit ship owners and lead eco-friendly shipping. We believe that these efforts will bring us a step closer to the future," Hong-Ryeul Ryu, Vice President in the Initial design office of HHI, said.
The AiP for the rotor sail-assisted VLCC follows an AiP issued to Hyundai Mipo Dockyard in May this year for an LNG-fueled 50,000 dwt class MR tanker design.