Interview: Regulatory Hurdles Are Hampering the Take-Up of Drones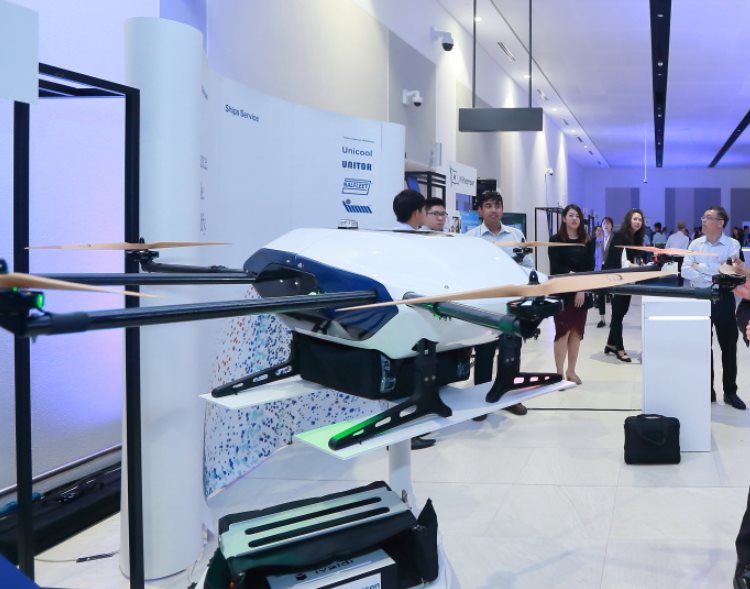 ---
Unmanned aircraft systems (UAS), which are going through a massive development phase, are finding their purpose in the shipping industry as well. These systems have proven their ability to speed up deliveries, cutting lead times typically seen on traditional forms of last mile delivery.
With a quicker response rate and turnaround time of up to 6 times, drones have the potential to lower shore-to-ship delivery costs by up to 90% in some ports, significantly mitigate risks of personnel accidents and have a reduced carbon footprint.
In an interview with World Maritime News, Marius Johansen, VP Commercial, Ships Agency at Wilhelmsen Ships Service, said that shore-to-ship deliveries via UAS bring improved safety, productivity and reactivity by replacing the manual delivery of parcels by agents via launch boat with autonomous drones.
He added, however, that development of relevant regulatory and safety framework is slowing the take-up of UAS technology, "but it is necessary and when it comes to safety it is wise to be thorough and pragmatic."
"From a ship owner's perspective, there are so many potential innovative use cases for a drone onboard a single vessel. The key challenge is that as soon as you use it outside of the vessel, it becomes heavily regulated and this varies from country to country."
Wilhelmsen Ships Service was recently elected to help develop the future UAS regulatory framework for Singapore and will receive dedicated funding for their shore-to-ship delivery project.
"The Agency by Air project we are running has several use cases we are evaluating i.e. parcel delivery to vessel, cargo hold inspections, and draft surveys using drone technology," Johansen explained.
"For parcel deliveries from shore to vessel, we are preparing for a 2-week pilot trial with autonomous drones that is scheduled to start in the last week of September. This pilot trial will be a demonstration of a Proof-of-Concept, involving actual deliveries to vessels at anchorage in Singapore. This is the first time in the world where autonomous drone deliveries will take place in real port conditions."
Wilhelmsen Ships Service said that the key to successful implementation of drone technology and the realisation of the potential business, operational and cost benefits will depend on a number of factors. The first factor is technology, as despite the many use cases, the technology does face some challenges, such as limited battery life and difficulty operating in poor weather, according to Johansen. But original equipment manufacturers and major shippers are keen to improve the technology further and extend the reach and scope of what can be done with drones, he added.
"The second is the uneven regulatory landscape. Regulations from both the aviation and maritime authorities can potentially be a show-stopping obstacle when it comes to rolling out a global drone delivery service, since the regulations are different in each and every country."
The company's project development of UAS together with Singapore's regulatory bodies runs for a period of 22 months starting in Q3 this year. Following the completion of the pilot trial, Wilhelmsen Ships Service's next step will be  the preliminary design plan for UAS type and design for maritime deliveries that includes key technology vessel localization and landing solution, BLOS communication.
"We will also be looking at developing an end-to-end design and implementation plan, such as forecasting the number of drones required from a logistical perspective with the volume," according to Johansen.
With the current UAS technology, drones are capable of making last mile deliveries for critical documents, vital medical supplies and lighter weight spare parts of up to 4kg.
However, at this stage, traditional launch boats are still needed for crew change and the transport of larger supplies to the vessel through tug boats, Johansen said, adding that, dependent on the correct regulatory and safety framework being in place, drones could replace launch boats for deliveries of small, lightweight time critical deliveries right now.
In the shipping industry, drones have typically been used for security, environmental surveillance, emergency response, search and rescue missions, as well as various vessel inspections.
The technological potential with drones is immense, Johansen said, adding that "in the future, when the technology allows a greater range and heavier payload, we will likely see an exponential increase of UAS usage."
Interview conducted by Erna Penjic, Editor, World Maritime News
Image Courtesy: Wilhelmsen Ships Service