"It's coming home!" To Germany
"It's coming home!" To Germany. Not football, obviously, as die Mannschaft dropped out in the group stages of the World Cup in Russia in June.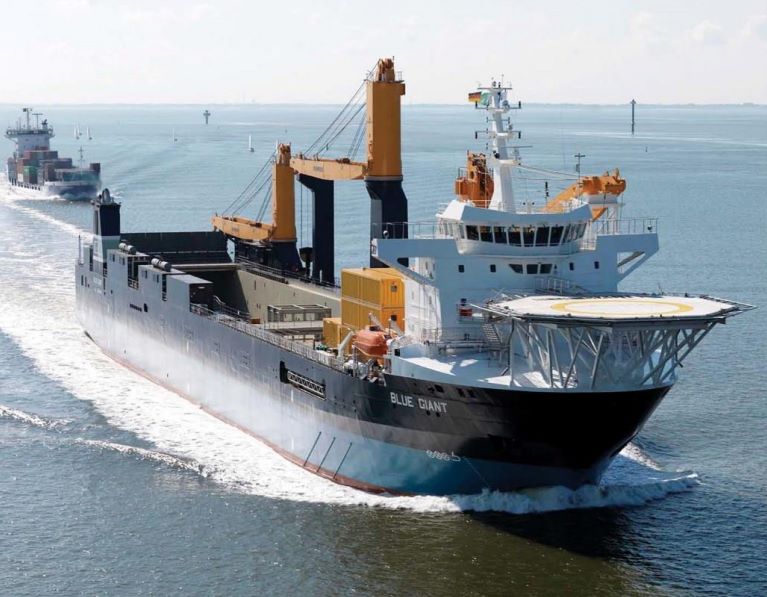 Namely, this is how the German Harren & Partner shipping firm introduced the return of the Blue Giant offshore construction vessel to Bremen, Germany, where it was built a decade ago.
The German firm on Wednesday said it bought back the multi-purpose offshore vessel MV Blue Giant from the UK-based OIG Group.
Bremen-based firm's founder Peter Harren said the oil markets are currently still recovering, however, Harren & Partner "has deliberately opted for this investment despite its counter-cyclical nature."
Martin Harren, Managing Director of Harren & Partner said: "Alongside our classic offshore activities, we also wish to further strengthen our position in attractive niche markets such as the salvage business, where this vessel also has possibilities for deployment."
Harren & Partner also company also shared the story of the history which "has come full-circle"
"The history of the MV Blue Giant has come full circle as it was built in 2008 to the order of Harren & Partner at Lloyd Werft Bremerhaven, Germany. It was one of the first ships to combine the functions of a dock ship with those of a Ro-Ro and heavy lift vessel.
After several successful offshore and salvage projects in the Gulf of Mexico and the Gulf Coast of the United States, MV Blue Giant was sold in 2011 to the OIG Group," Harren & Partner said.
According to the company, since delivery, the DP2 vessel,  length 179.63 m, breadth 25.40 m, has been continuously under the technical management of Harren & Partner. In 2017 during the ice-free summer months, the vessel was used for extensive maintenance and repair work on a gas platform in the Pechora Sea, Russia.
The vessel has a combined crane capacity of up to 700 t and one height extended crane up to 60 meters. It can accommodate up to 200 people, it has a moon pool, a helideck and a fire fighting system reaching a distance of 180 m.
Heiko Felderhoff, Managing Director of Harren & Partner, stressed the flexibility of MV Blue Giant: "It's a highly adaptable ship that can also be used as an emergency response vessel. There are a few things that it can't do," he enthuses.
"Following its ten-year class renewal in Bremerhaven, MV Blue Giant will be in perfect shape to meet the upcoming challenges. Currently, Harren & Partner is holding intensive talks about future projects," Harren & Partner said.
So there you have it. The Blue Giant is back home – at least according to the data from MarineTraffic, which shows the vessel as located in Bremen.
As for that other thing, football, we'll know if "It's coming home" will still be chanted tomorrow after tonight's game between England and Croatia.
Update: Thursday, July 12, 2018.
England 1 – 2 Croatia, after extra time. It's not coming home.