Japan's 1st LNG-fueled ferry enters service
The first of Japan's two LNG-fueled ferries, the Sunflower Kurenai, owned by Japanese shipping major MOL and operated by its group company Ferry Sunflower Co., has officially entered into service.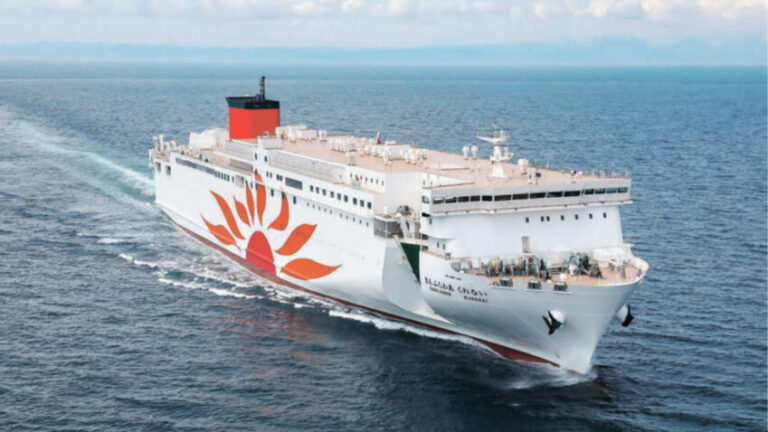 The ferry launched operation on January 13 between the Osaka-Beppu route, linking Sunflower Ferry Terminal, Osaka Prefecture, and Beppu International Tourist Port, Oita Prefecture. The ferry will serve as a replacement for the ferry Sunflower Ivory.
According to MOL, the vessel adopts the latest environmental-friendly specifications including a high-performance dual-fuel engine, which can run on both LNG and heavy fuel oil. The use of LNG fuel is expected to reduce emissions of carbon dioxide (CO2) by about 25%, and sulfur oxide (SOx) by virtually 100%.
In total, MOL has ordered four LNG-fueled ferries. Following the Sunflower Kurenai and the Sunflower Murasaki, the first and second LNG-fueled vessels.
Sunflower Murasaki, was launched and named at Mitsubishi Shipbuilding's yard in Shimonoseki-shi, Yamaguchi Prefecture, in August 2022 and is expected for delivery in the upcoming period.
The company plans to build two additional LNG-fueled ferries and put them into service in 2025 to replace those currently plying the Oarai-Tomakomai route operated by MOL Ferry Co.
Earlier this month, MOL announced that it has signed a deal with Japan Petroleum Exploration (JAPEX) and Hokkaido Gas for the supply of LNG fuel to the third and fourth newbuilding ferries from the batch.
In line with the latest deal, JAPEX will supply LNG fuel to the ferries at the Port of Oarai in Ibaraki Prefecture, and Hokkaido Gas will supply it at the Port of Tomakomai in Hokkaido respectively through the Truck to Ship method.
MOL is pursuing wider use of LNG on its ships as part of its decarbonization efforts, the objective being to become net zero by 2050. The strategy lays out steps that will see MOL gradually introduce alternative fuels on its ships, starting with LNG.
The company plans to launch about 90 LNG-fueled vessels by 2030. Considerable progress on this path is underway, as the ordering tally has hit 16 large vessels and 6 coasters.