JDR's new subsea cable factory hits several construction milestones
JDR Cable Systems, part of the TFK Group, has achieved several milestones in the construction of its new £130 million subsea cable manufacturing facility in Cambois, near Blyth, Northumberland.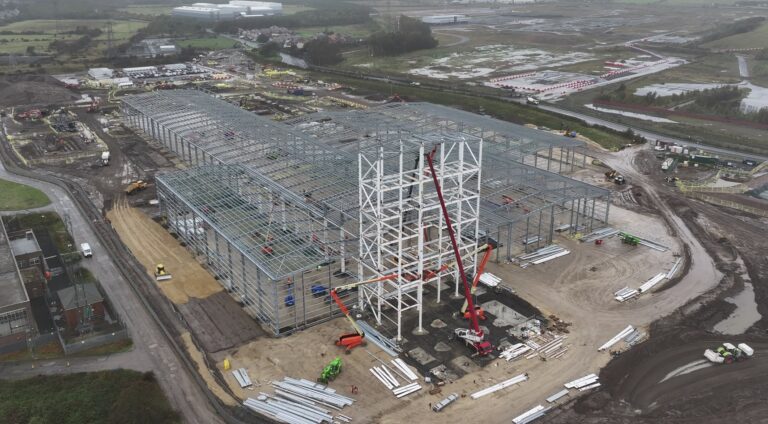 The facility, set to expand the product offerings of JDR and TFKable, will produce high and extra-high voltage cables at 132kV and above.
The project is supported by His Majesty's Government and the Secretary of State as part of the DESNZ Offshore Wind Manufacturing Investment Support Scheme.
According to JDR, significant advancements have been made in the facility foundation work, including the placement of over 150 building pad foundations and the erection of a substantial portion of the steel frame for the main hall. Roofing and cladding works have also commenced.
Furthermore, all piling for the foundations of the vertical lay-up machine (VLM) and continuous catenary vulcanization towers (CCV) has been completed. The towers are supported by a total of 250 piles drilled to a depth of 24 meters below ground level to reach bedrock and provide essential support for the advanced machinery housed within them.
Once operational, the CCV line will establish the site as the only facility in the UK capable of full start-to-finish manufacturing of high-voltage subsea cables, JDR said.
"Constructing this first-in-class facility in the UK enhances our ability to produce high-quality, high-voltage subsea cables, that we know will be essential in meeting the demands of not only the offshore renewable energy market, but also the wider needs of the energy sector as we seek to decarbonise our energy system and achieve net-zero emissions by 2050," said James Young, Chief Strategy and Compliance Officer at JDR Cable Systems.
"As a proud UK-based company, it's vital that we contribute to the local economy of the North East and the UK more widely, supporting local workforces and strengthening our supply chains as we bring our facility online to help to lead the energy transition here in the UK and beyond."
With the facility foundation work nearing completion and over 1,700 tonnes of concrete foundations now having been poured, the project is on course to meet the significant increase in demand expected for high-voltage cables in the middle of the decade, JDR said.
Machinery deliveries for the facility are also progressing, with European-manufactured machines already completed and ready for installation, which will take place once the building is sealed, and the floor slab is completed in the coming months.
Construction work has reused existing foundations from the former Blyth A&B coal power station on-site, reducing the emissions related to this stage of construction.
SUBSCRIBE